Web Design and Development Services
Optimind is a digital marketing agency in the Philippines that offers a multitude of digital marketing services. This page discusses our web design services. All web design production are done in the Philippines.
Web Design Goal: We don't just design websites, we design websites that sell
Each website created by Optimind Technology Solutions adheres to our clients' branding rules and vision, ensuring a perfect fit with all other sales channels. Each website is designed to rank well on search engines for the right words customers use, look the same on any Internet device, and persuade them to become your clients.
Watch how we've implemented a holistic digital campaign for a client starting from an effective web design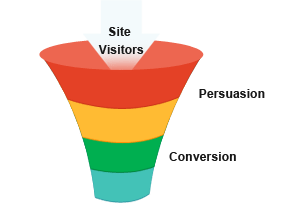 Persuade your visitors to take action
It is not enough that prospective clients find their way to you. Your website needs to deliver a solid user experience that is so relevant to their needs and desires that the experience persuades them to take action. Websites designed by Optimind Technology Solutions apply proven principles in sales and consumer psychology, as well as usability principles, that not only convince your potential clients to take action, but empower you to measure these actions and help you achieve your business goals.
Persuasion Architecture – Where should you place your call to action? What color should you use? These are questions that our persuasion architects can answer. Our designers employ the latest psychology and usability principles proven to positively affect your customers' online behavior and lead them to action.
Enjoy your website's consistent look and feel
Part of ensuring your prospective customers find you is ensuring your website looks the same no matter what Internet browser they may be using. We at Optimind Technology Solutions take browser compatibility issues very seriously, and all the websites we design are rigorously tested look and work the same with all major browsers, operating systems, devices and resolutions.
Reach out to a wider global market
Optimind Technology Solutions is fully equipped with the latest development tools and software to build and test websites done in different languages, an absolute essential in today's global village.
Be found by your prospective customers
Ranking well on search engines is both an art and a science; the ever-evolving process of preparing your website for search engine success is called Search Engine Optimization (SEO ), and we at Optimind Technology Solutions are among the best in the business. More about our SEO service >>
Contact Us
Our clients include some of the most well-respected names in real estate, insurance, e-commerce, technology, and commercial products from Asia and all over the world.

Anyone can design a website. You can work with freelancers, any mom-and-pop web design studio, or even your 11-year-old niece, and they may be able to produce a flashy online home for your product or service. Effects are nice, but we believe the odds are good that these fancy effects won't necessarily translate into what you really want -RESULTS.
We believe a corporate website must always be focused on results. Your website is more than just an online portfolio: it is your gateway to a world of possibilities. Whether you're selling a product or service to potential customers or seeking to simply convey information to future or current investors, your corporate website is an extension of your brand. As such, its design should be simple, clear and focused on results, whatever your identified end-results are, in order to fully and clearly capture the essence of your brand.
We at Optimind are passionate about understanding what you and your brand stand for, and fully capturing and communicating the essence of your brand in your corporate home. Contact Us Now to allow us to show you exactly what we can do when you partner with us.
Every Optimind website project goes through a methodical development process, from designing your website flow to testing your visitor's behavior on your site. This ensures your website achieves its goals and you get maximum ROI from the time and money spent in developing your online channel.
Say goodbye to expensive production and a host of other complications that you don't need to think about.
Optimind Technology Solutions develops its software and Web applications using one of the most resource- and labor-efficient development philosophies today: Get Real philosophy..
When organizations get real, they get down to the bottom lines of their very existence and work on what they do best. The end results are software and web applications that are produced faster and more efficiently.
We start by developing the interface that the customer will experience, and work our way backwards. Get the interface right, produce a topnotch user experience, and there's a lot less chance of bungling up the website.
We spend less time on representation – you know, charts, wireframes and tables – and more time on actually producing a product that works.
We significantly reduce red tape, paperwork, bells and whistles, pretty much everything that isn't really a must-have, giving you exactly what you need.
For large custom projects, we follow the FDD methodology.
With the wide variety of available devices – iPads, iPhones, netbooks, desktop PCs, etc., your website has to look consistent to your target market. With the use of the latest HTML and CSS technology, Optimind makes this possible for you.
We at Optimind promise more surprises to delight you and your customers. Contact Us
Are you ready to bring your brand to even greater heights online?
Contact Us