Failing to plan is planning to fail.
Planning is critical, and the same holds true even for website creation and redesign. The number of complex processes involved in building a professional website makes it all the more essential to plan. One way of planning a highly efficient website is through site mapping. Site maps are a must, and here a few explanations why a sitemap is a requirement before a web designer embarks on building a site.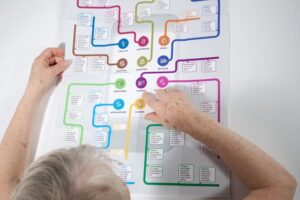 Site map explained
Remember that virtually all credible websites have goals and purposes. A site without a clear purpose is unfocused, difficult to navigate and presents poor user experience (UX).
Before any web designer begins building, or in our case, redesigning a website, a site map must be created. Also known as navigation map, a site map is a visual representation of the would-be hierarchical structure of the site to be built. Site maps can be an outline or a diagram.
Site maps are useful for different reasons. First, it emphasizes planning the navigability of the site aside from structure and hierarchy. Second, it defines the size and scope of the site. Third, it categorizes the contents into logical groups or in a way that is meaningful for the users. Fourth, it organizes the pages to create a logical path so users will achieve the purpose of the visit.
Ultimately, a site map helps in clarifying the goals of the website even before the redesign starts. By deciding what the website is for and mapping it out, you will be assured that each element on the site is reinforcing such goals.
Site maps can be very simple or very complex, depending on the requirements of the owner. The most important aspect is for the site map to explain what each page is about and will contain; how each page relates to one another; how each section will be grouped; how users would be able to navigate between each page, and what sort of navigation must be employed for each section and page.
Nonetheless, below are some of the prerequisites for creating a site map.
Clear business goals
Website objectives
Creative briefs
User profiles
Content delivery plan
With a clear understanding of what purpose the site is meant for, who will use it and what users should do when on it, the development process will be simpler and easier. Early on, the developer(s) may start looking at the information that the site will provide and how the information will be accessed and displayed.
Much of the information architecture will depend on site maps in addition to user paths and process flows. Simply, the site map is the earliest possible tool for both the designers and non-designers to determine how the information architecture will work regardless of the size of the website towards providing the best possible visual.
Not to mention, an approved site map gets everyone involved in the same page. Rare are those situations wherein the entire website is built by only one person; it is usually a multi-role undertaking. A lot of inputs from different departments of the organization is being integrated into the site map as well.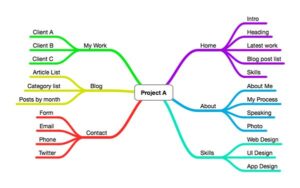 Skipping site maps – the pitfall
Some designers skip site maps altogether especially for more complex sites, thinking that it is rather difficult to represent such into a site map. While this may be true, the contingency is breaking the site map down into manageable sections for review. This can keep the perspective broader.
Skipping the process deliberately won't do any justice to UX. How can you create a user-centric website in the first place when you cannot represent or even simplify UX? This might mean organizing and clarifying content and eliminating unnecessary pages. While there are tools and programs to help create a site map, some web designers even choose to build their site maps on papers prior to creating digital versions of such. An efficient process as it is, designers can integrate the essential without forgetting an element such as logos, footers, calls to actions, etc.
A well-structured site map provides the base idea for the right types of templates the website will need. These templates, subsequently, will be worked into creating the right wireframes which identify the structure of every template and thereby the structure of every web page.
Bad navigation structures – another pitfall
If there is anything that a web designer can focus at this stage, it will be navigation structure. Bad navigation is one of the most common errors we see on websites. Perhaps, you have seen a website that works perfectly fine at the top-level buttons, but slowly dwindles on the third, fourth and fifth levels. At this stage, the browsing experience will feel more like a dark tunnel.
To make sense of reliable site maps, stakeholder meetings should be conducted to discover the client's business goals. With this, you can prioritize site functionalities and features among others. Further brainstorming may also lead to building user personas, content hierarchies and conversion points.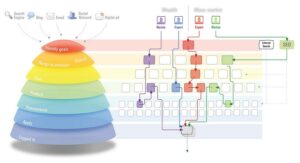 Site maps will evolve as the redesign project progresses. Up to this stage, however, the basic content and structure should have already been established. When creating the site map initially, factor in the probability of expansion. Every web designer knows about how quickly a sub-category should be added to the main menu whenever the client asks for it.
If, in case, the pages become text-heavy, web designers would also know what to do. For example, they can divide the text-heavy page into sections. Once the right categories and sections are factored in, there is no reason the client will not approve the site map. Welcome constructive criticism though for amendments.
When submitting site maps for approval, as much as possible, there should be brief explanations of the purpose of each page. This presents the client with something more professional-looking than a simple presentation. It is critical that a client signs off on the final site version before web design in the Philippines starts.
Without site maps, web designers may spend lots of time in the creation of unnecessary pages or design more complicated website than it ought to be. It should be a question whether to create a site map or not. Instead, it should be what elements should be included in the site map and which can be discarded. This is an important question if you really want to create a website with the users in mind.
Image credits: OptionClick.co.uk | UX.Stackexchange.com | Webdesign.Tutsplus.com