While every pay-per-click (PPC) campaign is unique, these campaigns shared the same processes and structures. Nonetheless, only the most successful campaigns are equipped with the most logical and organized structures, for instance. And, the rest are just mediocre ones. If your campaign falls into the latter category, now is the perfect time to learn about PPC campaign optimization.
Let's start with these ways to do just that.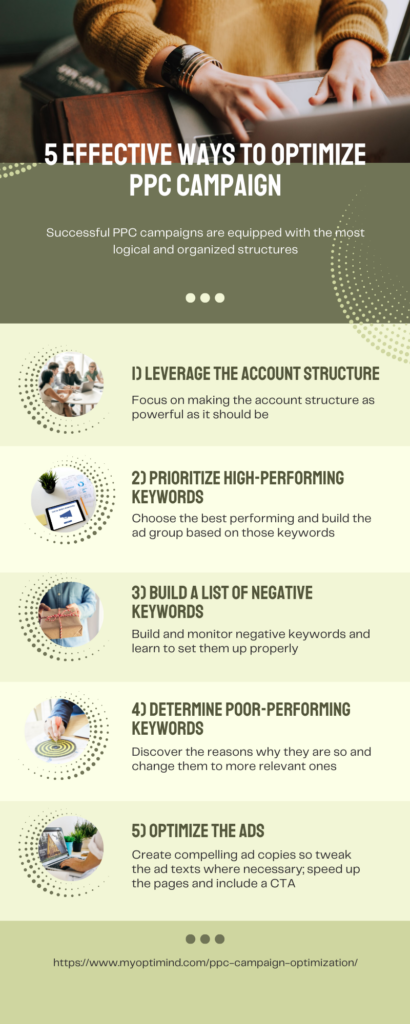 Ways to optimize a PPC campaign
1) Leverage the account structure
Well-structured PPC campaigns are more successful than loosely structured ones of course. Thus, you should focus on making the account structure as powerful as it should be. There are at least three aspects to look at such as the total number of keywords in each ad group, the number of ads in each ad group, the relevance of keywords to one another, and the relevance of keywords in the ad group.
Scrutinize your current campaign and clean up where necessary. Look into the areas as bidding, messaging, and targeting and check where or what your campaign lacks. While at it, think of smart displays that are critical to the performance of your campaign. Look into the ad rotation settings and update if needed.
Furthermore, there are fundamental rules of thumb. First, there should be 30 and below keywords for each ad group. Second, there should only be three ads at most that make use of the keywords in the ad text.
2) Prioritize high-performing PPC keywords
Keywords are still the key determinant of the needs of your users. Definitely, the goal is putting high-performing keywords in the campaign. The performance of the keywords will depend on your chosen key performance indicators (KPIs). One of the most important, if not the most important, KPI is conversion.
However, it is also critical to look at these landing page and website stats. Thus, you need to identify the high-performing keywords first. Then, choose the best performing and build the ad group based on that keyword. Tailor the messages to the needs of your target market and design the ads with user experience (UX) in mind.
As much as possible, bid highest on exact match not just because the ROI is higher, but also because such keyword can be highly targeted.
3) Build a list of negative keywords
Having a negative keyword list is a must. Nonetheless, the list should be a breathing list. This means you need to build out and monitor such to improve your results. You need to learn how to set up negative keywords properly. Otherwise, you'll end up losing money on irrelevant searches – money you should have spent on bidding for the right keywords. This is especially true if you are utilizing broad matches than exact matches.
Further, determining negative keywords can be daunting. One of the most effective ways of doing it is by looking for the actual terms that users are searching for. Check the unusual ways of doing keyword research such as Google Trends and Google suggestions.
Once you identified the negatives from the pool of search terms, you need to set it up correctly on AdWords. Negative keywords should be set up at the account level and not on campaign or ad group levels. Make sure these keywords are not blocking your business-relevant terms. Review the list on a regular basis.
4) Determine poor-performing keywords
Seemingly, you cannot determine if a keyword is performing poorly if you haven't put it in a campaign. Also, the campaign should be running long enough for you to gauge its performance. While doing this, though, you need to look at audience data.
After identifying these keywords, you should discover the reasons it is not performing that well. The three probable causes are the low bid, low search volume, and too broad or too restrictive match. The exact match had already depreciated, so look for dynamic searches instead especially those that are locally-focused ones.
Changing it to a better and more relevant keyword could be regarded as keyword variations. Then, just observe how the keywords are performing. Eventually, alter where necessary. Consider injecting appropriate longer-tail keywords in the campaign as well.
5) Optimize the ads
Ad texts must be optimized, too. Ads must be compelling, and they should also include relevant keywords, or no one will click on them. As such, you must tweak the ad texts whenever necessary to improve the performance of the ad group, in particular, and campaign, in general.
It would be nice to have two versions of the desktop ads and two versions of the mobile ads. In this way, you can compare which ad performs better. You cannot have mobile landing pages because there's always a 50% chance (or higher) that your user is using a mobile device when looking for your product or service.
In relation to that, utilize AMP landing pages. AMP stands for accelerated mobile pages which simply aims to display mobile pages as fast as they possibly could. You'll just be wasting money on PPC campaigns with ads that land on slow-loading landing pages when viewed on mobile devices. That's not how PPC should be.
Improve your campaign with AMP pages that load 5x faster than non-AMP pages. Through this, every click on your ad would mean a higher conversion rate if the user will click on your ad at all.
Importantly, don't forget to include a clear and concise call to action (CTA). This guides the expectation of the searcher especially when the CTA highlights the benefit of heading to your website and conducting business with you.
Evidently, there is always room for optimization when it comes to your PPC campaign. The goal is to focus on the most effective ones which include, but are not limited to building a stronger foundation, focusing on high-performing keywords, building a negative keywords list, and optimizing the text ads.
Don't forget to explore new technologies as well such as smart displays and AMP. In an era of machine learning, no one can afford to deliberately ignore these innovations more so if it means a more efficient PPC campaign.