Today, it is undeniable that search engine optimization (SEO) plays a central role in achieving most business endeavors and goals.
With a majority of online experiences starting with search engines, ensuring that your business page is optimized for search engines is paramount. Moreover, organic searches account for over fifty percent of website traffic, making SEO a vital tool for business success. That said, incorporating SEO into your digital marketing endeavors may be a little more complex than you initially thought. For a campaign to be successful, it needs to employ the right practices.
Like any industry as large as SEO, you will inevitably come across varying opinions and schools of thought about the best and most effective ways to approach site optimization. However, while SEO practices' legal guidelines have primarily remained an unchartered territory, websites do need to practice ethical SEO or run the risk of being penalized by search engines in their rankings. By now, you should know that Google is the juggernaut of search engines. That said, Google is significant enough insomuch that it pretty much dictates the future of SEO. As a result, Google's algorithms are pivotal to your SEO campaign, and if you want your business to get anywhere, you should avoid upsetting the algorithms.
That said, you need to distinguish the differences among the myriad of SEO practices and identify whether they can be beneficial for your business without upsetting any algorithms. This article will discuss the differences between white hat, black hat, and grey hat SEO practices.
WHAT IS BLACK HAT SEO?
From the name itself, we can already tell that black hat SEO is something that is disapproved. To elaborate, black hat SEO practice goes against the terms of service of a search engine. Simply put, it is an unacceptable practice that can result in a website being banned from search engine result pages and their affiliate sites.
Typically, black hat SEO techniques bring you nearer to your goals faster and cost less. Keep in mind that incorporating black hat techniques would mean taking shortcuts and going against Google's Guidelines.
Below are just some of the black hat SEO techniques you should avoid doing:
a.) Cloaking
b.) Markup Spam
c.) Doorway Pages
d.) Keyword Stuffing
e.) Spinning articles
f.) Pages with viruses, trojans, or phishing
g.) Redirects
h.) Manipulating links
i.) Link networks
j) Domains, subdomains, and pages with duplicate content
k.) Hidden text
CONSEQUENCES OF BLACK HAT SEO
While it is not exactly illegal to employ black hat SEO or "dirty machinations" to drive more traffic to your website, you should still avoid doing so. You may not be breaking any laws, but once Google is alerted of your black hat practices and strategies, your search engine ranking will soon tank and drop. That said, black hat strategies may provide a temporary solution for you to iron out some kinks for your website, but it is highly discouraged to use black hat techniques as your full-time strategy. Keep in mind that if someone detects unnatural SEO tactics on your website, a manual penalty may be applied to the domain. And if worse comes to worst, your website may be removed from Google entirely and permanently.
WHAT IS WHITE HAT SEO
Simply said, white hat SEO is a collection of SEO techniques and practices that strictly adhere to Google Webmaster Guidelines. However, as these practices meticulously follow the straight-laced rules, they take longer and cost more to implement. White hat SEO is typically less risky to implement and rewards websites with higher ranks in search engines. Moreover, it delivers lasting and compounding value over time. Simply put, white hat SEO is what Google and other search engines love. It is everything black hat SEO is not.
Some of the key features of a white hat SEO rich website are:
a.) Mobile friendly
b.) Fast page loading times and responsiveness
c.) Structured and easy to navigate for users
d.) Descriptive keywords and meta tags
e.) High-quality content with a mix of media such as text, video, and images.
KEY ASPECTS OF A WEBSITE THAT EMPLOYS WHITE HAT SEO PRACTICES
1.) Mobile Friendliness
Any website employing white hat SEO practices will prioritize mobile users. With mobile users surpassing desktop and laptop users, ensuring that websites are mobile-friendly is paramount to customer experience. That said, users typically judge a website based on how responsive they are. Black hat SEO techniques will employ a "one size fits all" approach, whereas white hat tactics will offer various designs depending on the device used. That said, white hat techniques will truly optimize the website as well as elevate the user experience.
2.) Website Structure
Think of website structure as the basic architecture of your website. Keep in mind that information architecture is a fundamental and key aspect of SEO as it essentially improves how users and search engine crawlers navigate your website. Your website structure should be sensible and straightforward. That said, visitors should be able to get around with only a few clicks as possible. Additionally, the bounce rate should be reduced, and try to keep your visitors on the site longer. Keep in mind that both engagement and bounce rates are essential factors of SEO.
3.) High-quality Content
What one considers high-quality may be subject to debate, but to search engines, the term "high quality" is relatively straightforward. Simply put, high-quality content is one that adequately addresses the needs of visitors and solves their problems. In this regard, website creators should use keyword research tools to find what resonates with their users. Moreover, they should look up relevant keywords to better understand how they can optimize marketing activity.
IS IT NECESSARY TO USE WHITE HAT SEO PRACTICES?
The short answer is yes. However, even if white hat SEO is heavily encouraged, some industries still find themselves using black hat SEO. While it is not necessarily bad, you need to minimize your underhanded SEO practices to ensure that you remain relevant and competitive in searches. The combination of white and black hat SEO practices is known as grey hat SEO. Utilizing grey hat SEO techniques comes with a risk of being penalized, but you can build effective strategies to ensure minimal risk.
WHAT IS GREY HAT SEO?
As said above, grey hat SEO practices are somewhere between white and black hat practices. They are named so because the techniques employed are a little ambiguous. While they are not necessarily black hat, they still do not abide by the terms of service that search engines publish. The techniques are a little suspicious and dubious, which means it can potentially become black hat someday. That said, it is imperative to keep an eye out for SEO trends.
The following techniques below are some of the most common grey hat SEO practices:
1.) Upgrading or spinning old content
Upgrading or spinning old content occurs when you utilize your short-form blog posts before, add information to them and turn them into long-form content to boost the rankings. If you wish to enhance your SEO, you may add additional keywords, promote your content and reach out to other bloggers.
2.) Domain Grabbing
Known as a widely used grey hat SEO tactic, the technique involves purchasing domains that have expired to increase your own's website's and backline profile's SEO. Domains in existence will likely have an authority that you can take advantage of and build upon by linking them back to your home page or blog.
3.) Link Exchange
Link exchanging manually is a grey hat SEO technique. It is done by exchanging links with other websites or blogs, which then builds backlinks to several sources. That said, you can form a list of all the relevant blogs in your industry, contact them and help promote each other's content.
4.) Careful Keyword Stuffing
While keyword stuffing is considered a black hat SEO technique, careful insertion of keywords is another thing. Having a long-form article using a primary keyword peppered all throughout at least three or four times within the same article is an excellent way to boost organic SEO. Keywords within title tags and headers and the beginning and end of the article are also considered positive stuffing methods.
TAKEAWAY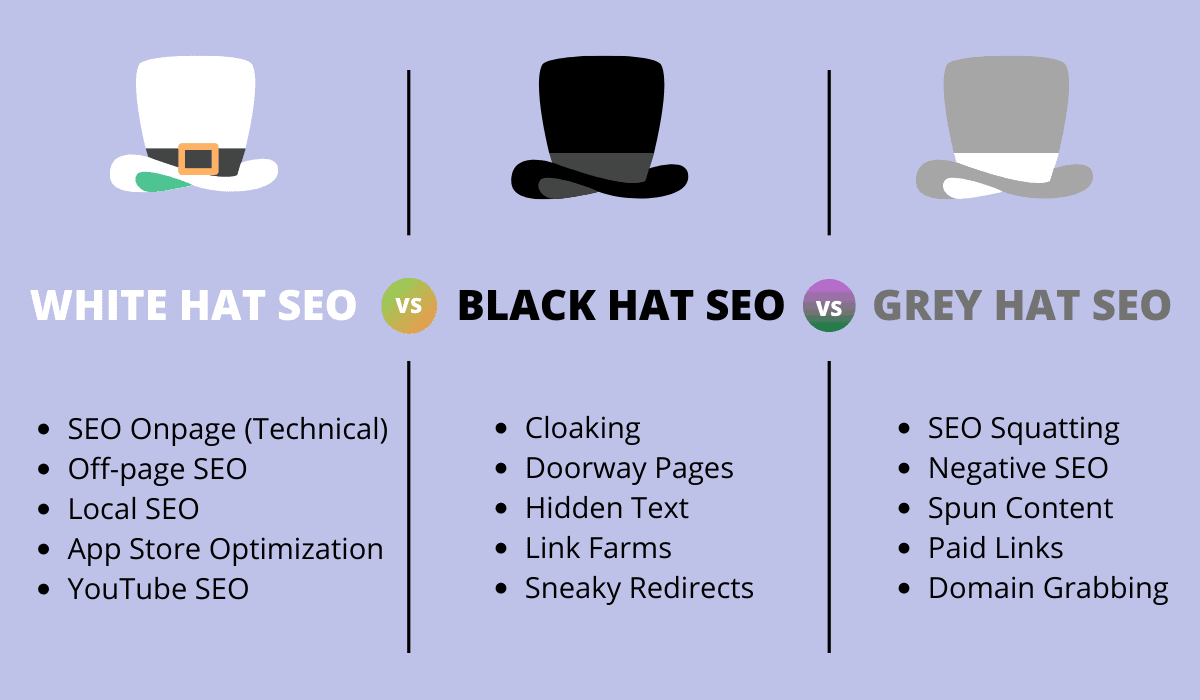 On the surface, white hat SEO and black hat SEO practices are distinct and easy to define. In theory, however, most SEO practices would seemingly fall into the gray zone. Keep in mind that black hat SEO practices carry substantial risks. Using white hat SEO may seem like the most obvious route, but is it enough to make you competitive? As gray hat SEO is considered to be somewhere in the middle, it seems like it would be your best option.

That said, it is your responsibility as a digital marketer to calculate the risks, weigh your options and go with the technique you think is best for your website and business. Contact us for your SEO service requirements.