In 2021 and years before that, the SEO trends of 2023 are geared toward providing the users the experience – the UX – they deserve.
What SEO strategies and tactics will matter this year to dominate the results pages (SERPs)? Below are the answers.
Why SEO? Well, because SEO is not d-e-a-d
In the Philippines, brands are still skeptical about jumping into the SEO bandwagon despite having heard and observed how competitors are outranking them on Google.
That's it. SEO is important for the sustainability of your business, especially now, wherein the digital platform is where competition happens. If you want to capture a bigger market share, SEO is one of the choices and the most critical business decision you will make.
SEO trends 2019 to 2023
SEO trend #1: Audience and search intent
Today, Google processes more than 1.3 billion searches in a month. So what does this wealth of data tell business owners? An SEO answer: Understanding the target audience and their intentions are highly possible.
This will be crucial in 2019 if you, as a brand, want users to buy your products and avail of your services. Enhance the user journey, and reap the rewards afterward.
Google's latest technologies put a semantic index on the SEO professionals' radar, matching the search query as accurately and relevantly as possible.
Strategizing around keyword use is paramount. This should inform and match the firm's content strategies. It also means consulting Google anywhere possible. This 2019, it would pay to plug the targeted keywords on Google.
Through Google suggest feature, you'd know whether the keywords on your list are the actual queries people use when searching for something. This is because Google's suggestions are based on real searches.
Speaking of content, the goal is making sure it comprehensively answers the questions that your target audience is asking whether it'd be a blog post, video, or infographic. In addition, it means including follow-up questions that the users themselves may not have considered or thought about when typing in their initial query.
SEO trend #2: Digital channel relevance
With user intent in mind, all other digital channels that work like search engines, Facebook and YouTube, most importantly, would be crucial this 2019. So we are talking about optimizing websites, Facebook pages, and YouTube channels. Likewise, optimize it for optimal iTunes or Google Store performance if you have a mobile app.
Hence, the trend is lenient on covering visibility on all brand-relevant channels. For example, if you offer photography services, you might as well be on Instagram and optimize the page for the nature and purpose of your business using targeted keywords.
Now, ask yourself: which devices does your target audience uses when accessing the Internet, particularly your website? Optimizing for devices is still as important this year as it would be in the years to come. For example, if you sell products online, optimize the store for mobile devices.
It requires choosing and focusing on the most relevant digital platforms where you can quickly meet the needs of your target users. That's how businesses should optimize the search experience.
SEO trend #3: Structured data markup
One technology that continually shapes Google's rollout of SEO-based algorithms is AI (artificial intelligence). AI-first indexing is on the horizon (although this may take place 2 to 3 years from now), passing through the mobile-first initiative.
Structured data is one way to address this ever-changing search engine behavior to build and sustain contextual relationships between the digital channel and its users. For example, it would be useless to place great content on slow websites, right? On the contrary, it would make sense to put those pieces of content on a highly-findable website.
Structured data and schema align with both active and passive user behaviors. Structured markup is just one, though. Other equally essential markers are information architecture, tags, and metadata. The crawlers, bots, or spiders would understand the topical structure supporting these requirements.
SEO trend #4: Voice search
With the increasing use of voice assistants, voice search is increasingly becoming important. Nonetheless, not all companies are particular in creating their voice optimization strategy because the users have yet to pick that up. Therefore, at this point, voice queries are limited to devices with such features.
This forms part of the user's conversational search journey wherein they look for answers to their questions, problems, or concerns. Not necessarily results.
When answers are crucial, voice search optimization is the way to go this 2019. This is especially true for multilingual sites. On the other hand, fulfilling intent may not necessarily be the answer.
SEO trend #5: Machine learning
On the other hand, machine learning has already been changing search since early 2018. RankBrain is instrumental to this.
Thus, it drives to look into the question from the intent perspective and not necessarily answers. SEO today is more like answering both the questions and the why's and how's behind those questions. Give users the answers they want first, and tell them how to make more sense of those answers.
SEO trend #6: Featured snippets
SERPs have several features that you should have taken advantage of many years ago. If you haven't, it is not enough to optimize your website and the search experience. This is more so because these features, such as knowledge graphs, carousels, answer boxes, and featured snippets take a great deal of screen real estate.
Think of it this way: one result is taken away on the top 10 results with every Google feature. SEO, therefore, is about visibility as well as exposure and clicks.
SEO trend #7: Mobile-first index
As predicted, 2019 will be the year of the mobile-first index. As a result, Google will begin scrutinizing the mobile version of the website. That is, if your website is not available on mobile, it has a slim chance of appearing on the mobile index and ranking on such.
Indexing content is different on mobile because Google can remove weak links. When Google indexes content, slow-loading websites tend to drag down mobile search results. Mobile indexing allows for only optimal mobile versions of the website to be included in the mobile results page.
SEO trend #8: Brand as a ranking signal
Intense competition drives company owners to protect and sustain the brand, digitally and physically. Creating a friendly environment for the users is paramount. Otherwise, the reputation will be ruined.
Brand is as important as other ranking signals. It means being genuine in the conduct of the business, fostering a creating culture with the users in mind.
SEO trend #9: SEO-driven yet thought-provoking content
Creating exceptional content is on Google's mandate. These 2018 updates are more keen on the overall content quality, checking the depth and breadth of site content. With this, websites with comprehensive content will be rewarded this year onwards.
The content marketing strategy shall revolve around publishing articles and blog posts worthy of acquiring links if you want to see your website on top of Google's results pages.
Creating content that engages the users while solving their problems is the key. It would help if you used the language your users connect with on your content and guide them on what must be done next. Content maps and experience maps are your best ally.
Speakable content is in beta, according to Google. The speakable schema is a property that can identify parts of an article or blog post that are best suited for audio playback. In addition, text-to-speech (TTS) is practical and can be easily set on your device. This, too, may shape how content will be published from 2019 and the years to come.
SEO trend #10: On-page SEO
A website is your company's digital hub, representing your brand's tangibles (products, services, and people) and intangibles (core values). So if a user wants to know more about one of your products, the go-to source is your website. But, unfortunately, that's only good for a branded search.
If the user searches for a generic keyword, your only chance of appearing on Google's results pages is on-page SEO. Backlinks are essential, but ongoing on-page SEO initiatives are equally crucial. Metadata and tags are the two broad concepts to understand if you want your website to rank on Google consistently.
Nevertheless, it is not always about these on-page factors. On-page optimization also applies to internal site search, shorter conversion process, customer support, and locations navigation.
SEO trend #11: Technical SEO
The technical side of optimization must not be ignored because of its increasing importance. A case in point is speed. Previously a ranking signal, speed fought its way up to become a ranking signal.
This should be self-explanatory, but to put things in context, if there are two websites with all other things being equal, Google will rank the website that loads in 3 seconds or less first than the site that takes more than 5 seconds to load. The mere 2-second difference could mean thousands of lost profits on your part. So, this 2019, make sure that your site loads really fast, especially on mobile devices.
Speaking of which, technical SEO is also about progressive web apps (PWA). Powerful web pages allow for a richer UX. JavaScript is the same, wherein code-heavy websites would not load on specific circumstances, affecting other UX factors.
SEO trend #12: Local search
Attracting local customers is critical for local businesses. Therefore, these businesses must focus on local SEO.
Local search targetting is all about precision this 2019 for more targeted results. Hyperlocal targeting aims to improve the sales funnel, especially those who are buy-ready consumers.
Proximity matters. Targetting down these people would also mean embracing mobile search.
SEO trend #13: E-A-T (expertise, authority, and trustworthiness)
E-A-T influences the search engine's search quality rating guidelines. No wonder the SEO experts that we are both familiar with and their websites are on top of Google. It means that quality is contextual, too, well, at least from the eyes of the tech giant. So, for example, users would think that the content is authoritative if Neil Patel or Rand Fishkin writes it.
Their reputation is undeniable, SEO-wise. Hence, you need to factor in reputation on your content distribution and promotion. In short, if you can bank on your expertise when writing authoritative content, you may increase your and your brand's trustworthiness. Aim to be the go-to source for specific content.
---
SEO trends 2016 to 2019
Mobile is big this year, and we mean B-I-G. And it shows no signs of slowing down even before Google launched Mobilegeddon in April. So here are the major changes in 2015 that will certainly pick up in 2016.
SEO trend #1: Mobile indexing
As we can see in Google Analytics reports, Google is capable of raking in traffic results based on the device the searcher uses. Google has been using this technology since 2009, although we see search results that are typically based on similar ranking algorithms.
That will change this year; there's a 99% chance that mobile indexing will happen this year. Moreover, with the launch of Mobilegeddon comes a promise that the search engine giant will prioritize mobile-friendly sites for mobile searches. So mobile indexing is in the works.
With this in mind, SEOs need to explore the platform deeper. Next year, the mobile user experience (UX) will be another point of competition. Remember that Google is after a quality experience. That's why it ranks mobile-optimized sites higher than those that aren't.
SEO trend #2: Mobile site speed
Again, with UX in mind, Google aims to escalate the mobile experiences by almost forcing site owners to make their mobile sites fast. Dubbed as The AMP Project, mobile speed is another ranking factor to look at next year. AMP stands for accelerated mobile pages for creating a faster and more engaging mobile browsing experience.
Experts themselves are skeptical because desktop site speed is relatively trivial while it is a ranking signal. But don't let the plainness of the statement fool you. Speed is a matter of fact, and roads lead to getting faster or lagging behind the competition.
On the other hand, some experts figure that AMP is here to stay. WordPress, for instance, develops a plugin to the standards of AMP. WordPress is one with Google in providing users with a much better UX, and if it means supporting a free and open Internet, then so be it.
SEO trend #3: Page speed optimization
Page speed has been in the list of yearly trends, but the changing requirements around it are getting even more sophisticated that it cannot be taken out of the lists. For emphasis, all things are equal, a fast-loading website will always outrank a slow one.
Again, the requirements are getting more stringent. If a site didn't load in 3 seconds, 40% of the visitors would leave. More than 50% of the visitors expect the site to load within 2 seconds. And a second delay could mean a 7% loss in conversion.
Let us not forget that Google allocates a crawl budget to every website. Yes, it crawls your site for a specific period. So, if your website loads very slow, it will eat much of that crawl budget, leaving other unimportant pages uncrawled and unindexed.
SEO trend #4: Spoken query
What do Siri, Cortana, Google Now, and now, Facebook M have in common? Yep, your answer is the same as mine. These digital assistants make our lives easier and more convenient with each use.
However, for digital companies, including any SEO company, these vutlers (virtual butlers) are a completely different story. These are game-changers. In fact, in a one-day survey conducted by PhoneArena.com, about 34.36% of online users use Google Now every day, 29.99% use it now and then, and only 35.65% have never used it. Once these vutlers get into you, you cannot stop using them; they become pervasive.
These are long-tail keyword queries with context-aware results. As a result, search is more complex than ever. And they pose a serious challenge for SEOs. The goal this 2016 is to write contents that are colloquial and conversational in nature.
SEO trend #5: Social content indexing
Speaking of content, Google had already inked a deal with Facebook and Twitter regarding search news. So, don't be surprised to see tweets in mobile SERPs (search engine results pages), for instance.
We can only predict, but the signs are so strong we cannot ignore them. Google will heavily index more and more sites, including social networking sites, in 2016. Social media will become more relevant aggregators of information.
Apparently, SEOs need to note that the Internet and social media are getting boundary-less by the day. Therefore, social media marketing should no longer be an option but a must.
SEO trend #6: Rich answers
Rich answers are eating up the SERPs. Not only that, rich answers account for 35% of all search queries nowadays. Here is another SEO opportunity that we can all exploit. However, this too takes some getting used to, especially since it means fewer positions in the results pages.
On the other end, it could only be an opportunity if you help Google answer the questions that users ask. So, appearing as a rich answer is not necessarily about the ranking but about creating high-quality, unique, and informative content.
Again, the emphasis is on long-tail keywords on content that directly answer common questions about your niche. It looks like we cannot abandon keywords, not this 2016. And structure the content the way your readers would expect how it should be structured – most crucial information at the top. That's the inverted pyramid, FYI.
SEO trend #7: Local search
With the power of mobile, along with the proliferation of digital assistants, there is increased pressure for local businesses to be more local. This also means escalating demand to do local SEO much better than before.
When a user searches for the nearest flower shop in Lackawanna using his Apple watch, ensure that your business will show up. It's about country, state, region, and street and neighborhood. That's how it'll be in 2016 – local search becoming more local.
Local listings and schema tagging are two of your priorities. Through this, you may capture more of the local market share by showing increasingly relevant results with their queries.
SEO trend #8: Interactive content
If the content is king, interactive content is the prince. Or, it could be the crown-stealer this 2016? So, while we have to wait and see to know the answer, let's feast on what we already know – interactive content can encourage engagement.
Think again if you believe polls are the only way to do this. There are many other ways, such as online calculators, maps, games, videos, animations, and even the scrolling experience. The goal is to make it immersive and yet non-intrusive.
Evidently, the challenge lies in creating interactive content for desktop and mobile sites. Unfortunately, it would be difficult to create interactive content for desktop websites hoping they will scale when viewed on mobile devices. So, content creation prioritization will come into play.
It only goes to show that the Internet is an ever-evolving landscape. Nonetheless, the trends are geared toward these eight items, although there could be more. One thing is for sure, though: change is coming! Embrace it or decay.
Here is the infographic.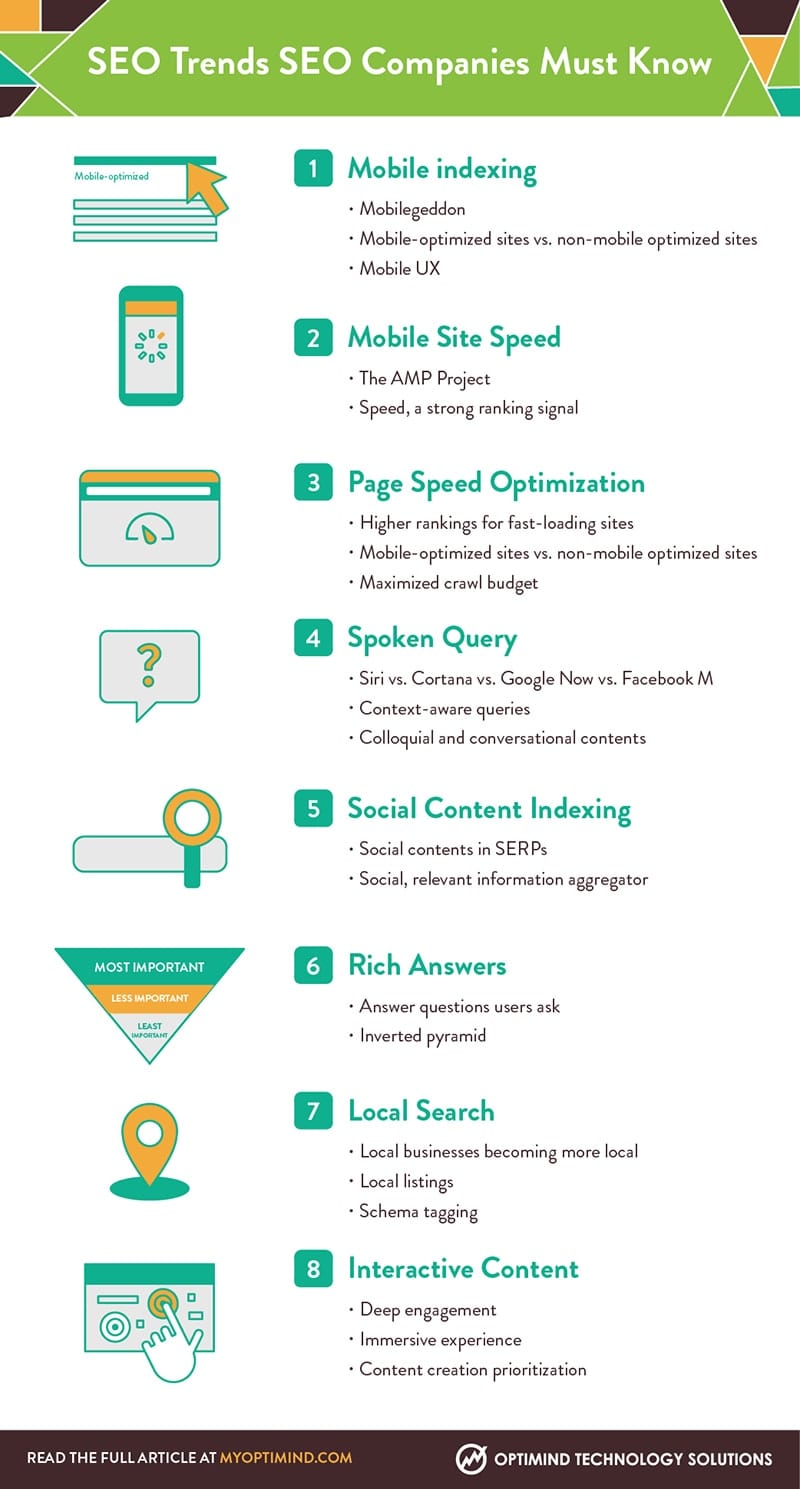 ---
SEO trends 2013 to 2015
The field of SEO is one of the most dynamic industries. What was effective and successful a few years ago may not be good practice now, and what may be a valuable SEO practice for this year may also not work for next year. SEO can be as changing and versatile; there are trends and predictions to what out for regularly. Below are some of these SEO trends and predictions that will hopefully help you have SEO success for 2014.
SEO trend #1: Content marketing
This aspect of search engine optimization becomes even more critical this 2014. With the significant changes in Google's algorithm last year, notably the new Google Hummingbird algorithm, good content marketing strategies are the most solid ones you can rely on. A robust content marketing approach will be all good for websites and the businesses on these sites. In treading your content marketing path for 2014, keep in mind the following:
Offer regular, good quality, relevant content that specifically focuses on your target audience.
Offer a variety of content such as images, videos, and infographics or diagrams.
Publish content that answers comprehensive questions.
Streamline your content marketing strategies with your social media strategies.
Be a solid authority or source of knowledge in your targeted industry.
Expectedly, Google authorship will be a huge determining factor in the importance and significance of a particular piece of content. The stronger the Author Rank is of the one who wrote the content, the better. The weight of Author Rank will only get heavier in future Google updates.
SEO trend #2: Link building
Some experts say that link building has died along with the Panda, Penguin, and Hummingbird. However, there is still some value to building links to your website. The key is not in the quantity of links but in getting relevant and high-quality links. Keep in mind the following when acquiring backlinks for your website:
Focus external link building efforts on the acquisition of editorially given links which are those that require human intervention and approval.
Build links that are relevant – on pages where the readers would have a genuine interest in your website.
Go for quality instead of quantity; prioritize links from high authority websites in your particular industry or niche.
Have a variety of anchor texts instead of using just a few ones.
SEO trend #3: Local SEO
A few years ago, some local businesses might put off having a more solid online presence while reasoning that they do not cater to a global clientele after all. However, nowadays, a large percentage of Google searches have geographical parameters. This means that many searches are related to location, creating an added benefit for local businesses with an excellent online presence. Whether local or not, businesses have massive potential for success this 2014 if they have a solid online presence and are optimized for search engines such as Google and Bing.
However, do not just aim for optimizing your search for search engines. The most important thing is to build a local presence with the help of your audience. Building your own brand is good, but building a community or a brand that changes and grows with the audience is so much better. Optimize your website to provide a good experience for those who are mobile and content-hungry.
SEO trend #4: Website design
A growing number of Internet users are now browsing online using their mobile phones or tablets. This already colossal percentage will only get higher for 2014, especially with the continued release of better Internet-capable mobile devices. Hence, a mobile-friendly website is a must for 2014.
However, some websites address the need for a mobile-friendly site by having a separate mobile version of their websites. Unfortunately, this practice could hurt your search engine rankings because you will now have two URLs of concern.
The best way to address the need for a mobile-friendly website is to have a responsive web design for your site. A site like this automatically adjusts its layout and size depending on the computer or device it is being viewed from, effectively removing the need for a separate mobile version of the website. This would mean that visitors to your site will all be directed to a single URL, whether they are using a computer, a laptop, a mobile phone, or a tablet.
Aside from having a single URL, having a website with a responsive web design will help you focus your SEO efforts on a single URL, and all search engine ranking value is likewise drawn to that single URL.
SEO trend #5: Social media
The role of social media continues to be very important in the SEO landscape, but more significantly, in the aspect of digital marketing. While Facebook and Twitter have long sealed their places like the social media networks to tap if you want to market your business, more visually-focused social media websites such as Instagram and Pinterest prove their worth in gaining online popularity. Other social media networks to tap are LinkedIn and, of course, Google+.
Although having accounts in various social networks is a huge step in the right direction, you will only tap the full marketing potential of these social media sites if you are active on the network and you successfully engage your followers. However, some SEO experts might say that social media marketing is separate from search engine optimization. Still, many people in the SEO industry foresee a more significant involvement and participation of social media in future Google updates. Therefore, keep the following things in mind in plotting your social media strategy:
Increase your presence in visual social media sites such as Instagram and Facebook.
Engage your Facebook followers and work on aggregation of likes, check-ins, and reviews to increase the number of targeted users who would see your business in the graph search.
Utilize and improve your Google authorship for your niche or industry.
Work on building your Google+ profile by focusing on strengthening the number of +1s and shares.
Final note
SEO has definitely changed over the years, and 2013 was a massive year in terms of changes in search engine optimization. The many changes the Google Panda, Penguin, and Hummingbird, hold even for 2014. Some concepts will be more amplified than others, such as those listed above. The leading SEO thrust for 2014 that will ensure success for your site is to provide value to your users and improve user experience.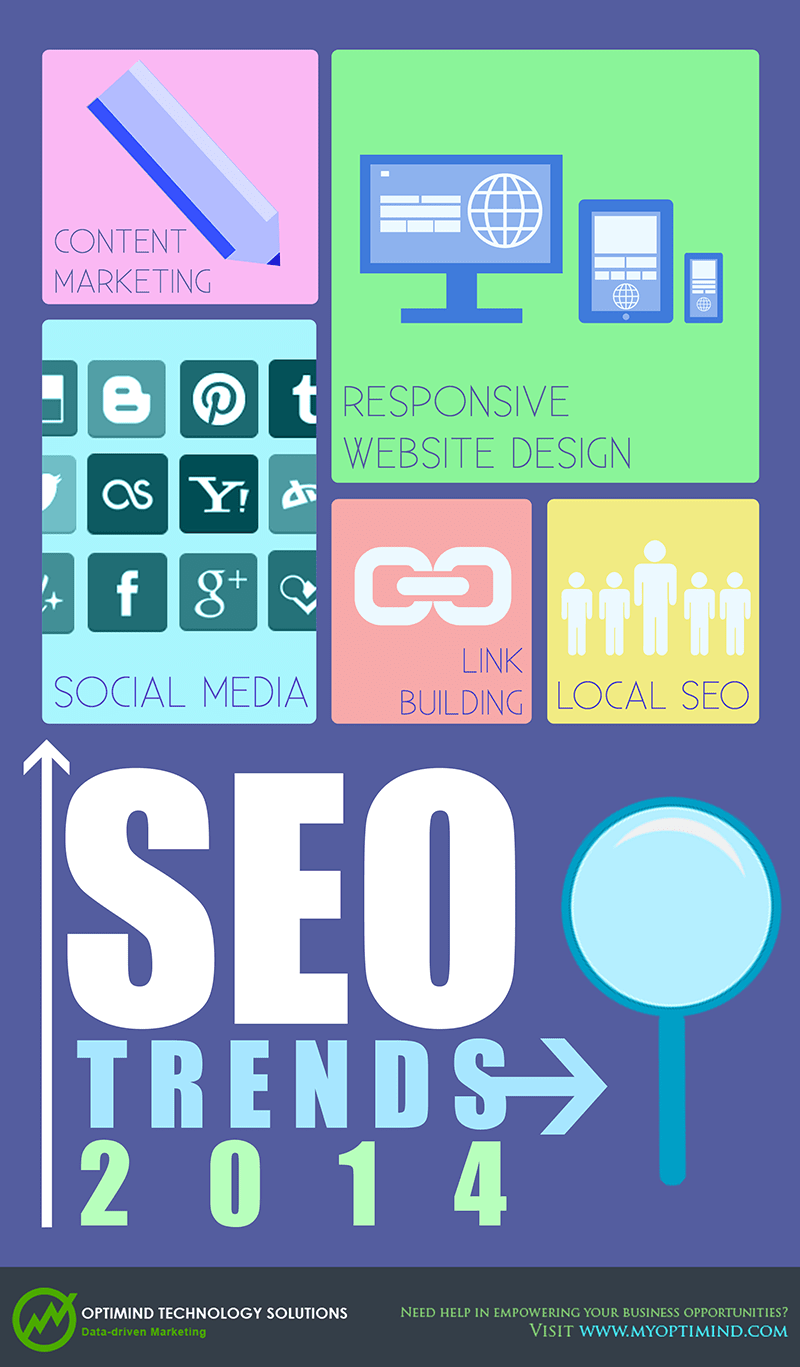 If you need an agency to push your SEO efforts, contact us. We've been doing SEO since 2002!