Enrich your SEO knowledge and build your search marketing skills. Learn from highly-respected best-selling authors in the industry and start working on your strategies. Whether you're a newly-established Digital Marketing company or an experienced SEO enthusiast, here are twenty (20) books you should own if you're into Search Engine Optimization.
SEO Books
  1. Content is Currency: Developing Powerful Content for Web and Mobile 
by Jon Wuebben
Book Description: In Content is Currency, content strategist Jon Wuebben explains the fine art of content development by utilizing the latest Search Engine Optimization (SEO) and Social Media Marketing (SMM) techniques, and provides you with the tools and strategies you need to get your online content noticed.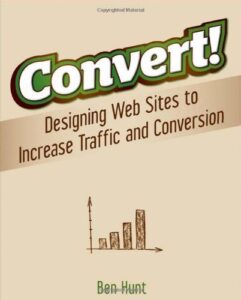 2.    Convert!: Designing Web Sites to Increase Traffic and Conversion
by Ben Hunt
Book Description: When web design expert Ben Hunt set out to quantify the difference between an ordinary web site and a great one, he expected to find the key in design simplicity. But when his team more than doubled the conversion rates for a wide range of sites, they identified simple yet powerful solutions involving design, copy, appropriate analysis, classic optimization techniques, and targeted testing. You'll find the fixes easy to implement, and they're all right here.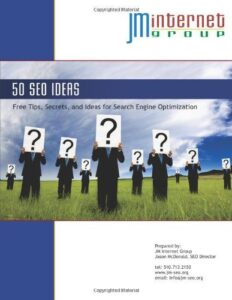 3. Fifty SEO Ideas: Free Tips, Secrets, and Ideas for Search Engine Optimization
by Jason McDonald
Book Description: Fifty SEO Ideas helps you understand SEO one idea at a time. That said, Fifty SEO Ideas is not a step-by-step guide to SEO! It is an ideabook: a book of ideas, in no particular order. It is meant to spur your own thinking, for you to read a suggestion and say to yourself – "Yes, that's for me!" or "No, that doesn't really apply to my needs." Fifty SEO Ideas is meant to get your juices flowing, and to break SEO down into easy-to-understand, easy-to-implement doable ideas.


4. FREE GOOGLE: Free SEO, Social Media, and AdWords Resources from Google for Small Business Marketing
by Jason McDonald
Book Description: SEO by Google, about Google, for Google! Free stuff from Google. This book pulls back the curtain on the Googleplex and identifies everything free from Google on SEO (Search Engine Optimization), SMM (Social Media Marketing), and PPC (Pay-per-click advertising, or AdWords).


  5. Inbound Marketing: Get Found Using Google, Social Media, and Blogs (New Rules Social Media Series)
by Brian Halligan, and Dharmesh Shah
Book Description (from the Back Cover):
"If you've been looking for a trustworthy primer on getting found online, here's a great place to start. Buy one for your clueless colleague too." – Seth Godin, author of Meatball Sundae
"If you have more money than brains, you should focus on outbound marketing. If you have more brains than money, you should focus on inbound marketing by reading this book." – Guy Kawasaki, cofounder of Alltop, and author of Reality Check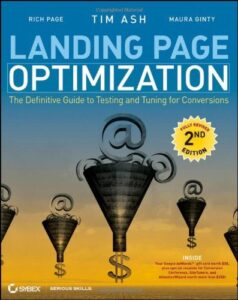 6.  Landing Page Optimization: The Definitive Guide to Testing and Tuning for Conversions, Second Edition
by Tim Ash, Maura Ginty and Rich Page
Book Description: The latest edition of this bestselling guide shows you step by step how to test and tune landing pages and dramatically improve your bottom line. With more than 150 pages of new material, this ultimate marketer's resource is packed with practical strategies and tips, as well as eye-opening case studies.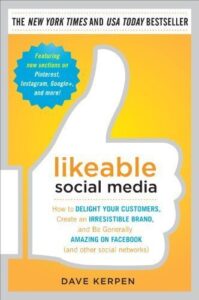 7.  Likeable Social Media: How to Delight Your Customers, Create an Irresistible Brand, and Be Generally Amazing on Facebook (And Other Social Networks)
by Dave Kerpen
Book Description: The secret to successful word-of-mouth marketing on the social web is easy: BE LIKEABLE. LIkeable Social Media helps you harness the power of word-of-mouth marketing to transform your business. Listen to your customers and prospects. Deliver value, excitement, and surprise. And most important, learn how to truly engage your customers and help them spread the word.

  8.  Optimize: How to Attract and Engage More Customers by Integrating SEO, Social Media, and Content Marketing
by Lee Odden
Book Description: Optimize gives you a practical approach to integrating search and social media optimization with content marketing to boost your relevance and visibility for potential customers. Companies large and small should grasp how customers find and seek out resources, the content topics and formats that motivate them, and the social media platforms and tools they use to engage with one another and recommend things.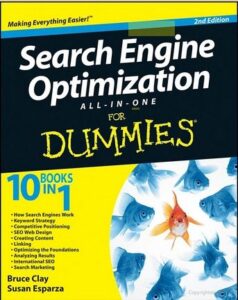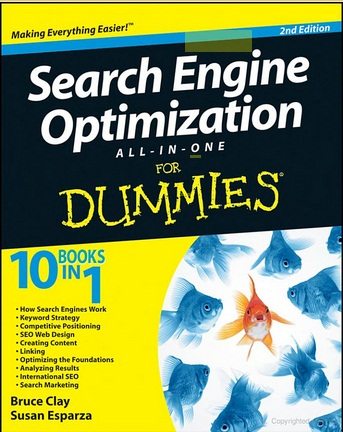 9.  Search Engine Optimization All-in-One For Dummies, Second Edition
by Bruce Clay, Susan Esparza
Book Description: Ten separate books join forces to provide you with a comprehensive, straightforward guide to the benefits, details, and tricks of SEO. Coverage devotes time to topics such as keyword strategy, competitive positioning, SEO web design, search marketing, and more. You'll also look at how search engines work and how to create content, link, optimize the foundations, and analyze results.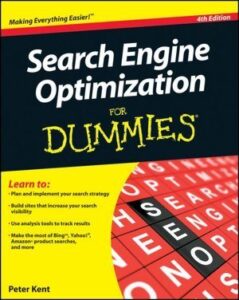 10.  Search Engine Optimization For Dummies [Paperback], Fourth Edition
by Peter Kent
Book Description: This straightforward-but-fun guide provides you with a clear understanding of how you can use SEO as a key strategy for online marketing. After discussing search engine basics, SEO expert Peter Kent shares tips, tricks, and advice for making your content appealing to search engines.


  11.  Search Engine Optimization (SEO): An Hour a Day
by Jennifer Grappone and Gradiva Couzin
Book Description: This book provides strategies for setting goals and gaining corporate support, developing and implementing a plan, and monitoring trends and results. Companion Web site includes downloadable tracking spreadsheets, keyword list templates, templates for checking rank and site indexes, and a calendar with daily SEO tasks that you can import into your own calendar system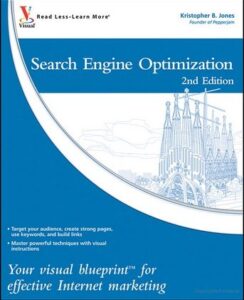 12.  Search Engine Optimization: Your visual blueprint for effective Internet marketing, Second Edition
by Kristopher B. Jones
Book Description: Packed with more than 600 screen shots, top Internet marketing expert Kristopher Jones explores search-engine marketing principles such as keyword generation, on-site optimization specifically regarding Web site structure, internal linking, URL structure, and content creation, and much more.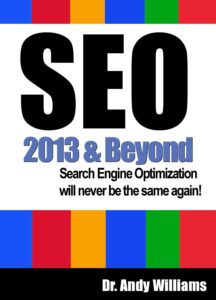 13.  SEO 2013 & Beyond: Search engine optimization will never be the same again (Webmaster Series)
by Dr. Andy Williams
Book Description: If the SEO book/course you are putting your faith into was written before September 2012, then you could be following advice that will get your site penalized, or even removed from Google. Google made massive changes in 2011, but even more significant changes in 2012. Strategies taught as best principles in early 2012 are now considered "black hat" or just plain risky in 2013. SEO 2013 & Beyond will tell you what you can do and what you cannot.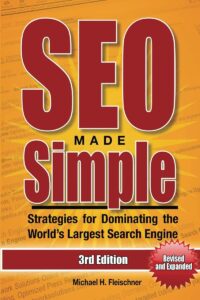 14.   SEO Made Simple (Third Edition): Strategies for Dominating the World's Largest Search Engine
by Michael H. Fleischner
Book Description: Updated and expanded with the latest information on search engine optimization (SEO) and including more than 25 new pages of proven search engine optimization techniques that address the changing landscape of search engine optimization, SEO Made Simple is today's top-selling search engine optimization guide for good reason. Learn from leading Webmaster Michael H. Fleischner the specific SEO techniques that deliver top rankings in less than 30 days.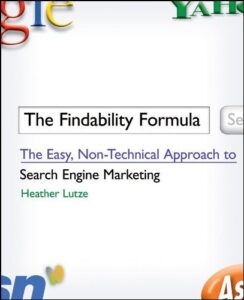 15.  The Findability Formula: The Easy, Non-Technical Approach to Search Engine Marketing
by Heather Lutze
Book Description (from the Back Cover): In simple, non-technical language, renowned search engine marketing expert Heather Lutze reveals how to achieve "findability" through the use of the ideal keywords applied to both pay per click campaigns and organic search optimization. In addition, Lutze explains how to respond to your customers and understand their issues, wants, and needs so that you can more easily turn prospects into customers. Her step-by-step approach, up-to-date research, and warnings about common pitfalls make this the ultimate practical guide to getting your business noticed on the Internet.


  16.  The New Rules of Marketing & PR: How to Use Social Media, Online Video, Mobile Applications, Blogs, News Releases, and Viral Marketing to Reach Buyers Directly, Third Edition
by David Meerman Scott
Book Description: The one-of-a-kind guide to the future of marketing is back with the very latest digital trends in marketing and PR. Learn new tools and techniques to communicate with buyers directly, raise online visibility, and increase sales. For professionals, entrepreneurs, business owners, and professors alike, this pioneering guide offers actionable strategies that can be implemented immediately.


17.  Ultimate Guide to Google AdWords: How to Access 100 Million People in 10 Minutes, Third Edition
by Perry Marshall and Bryan Todd
Book Description: Google AdWords experts Perry Marshall and Bryan Todd uncover the fundamentals, techniques, tools, and tricks that Google should teach you, but doesn't. Learn how to build an aggressive , streamlined campaign proven to increase your search engine visibility, consistently capture clicks and increase sales. No other guide is as comprehensive, or current in it's coverage of today's fastest, most powerful advertising medium.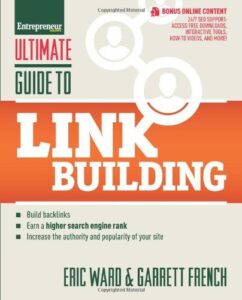 18. Ultimate Guide to Link Building: How to Build Backlinks, Authority and Credibility for Your Website, and Increase Click Traffic and Search Ranking (Ultimate Series)
by Eric Ward and Garrett French
Book Description (from the Book Cover): Link. Rank. Profit. The web today is comprised of trillions of links. Who links to your site and how they link to it is the fundamental factor driving your search engine rank and your website traffic. The question is—how do you control this? Link building expert Eric Ward and online marketer Garrett French provide the answers. Simplifying the complex world of web links, Ward and French show you, step by step, how to employ a link-building campaign to attract quality links, drive more traffic, and dramatically boost your search rank.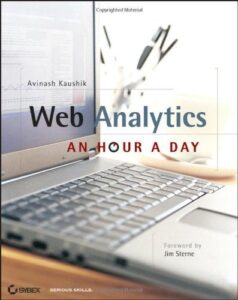 19.  Web Analytics: An Hour a Day
by Avinash Kaushik
Book Description: Written by an in-the-trenches practitioner, this step-by-step guide shows you how to implement a successful Web analytics strategy. Web analytics expert Avinash Kaushik, in his thought-provoking style, debunks leading myths and leads you on a path to gaining actionable insights from your analytics efforts. Discover how to move beyond clickstream analysis, why qualitative data should be your focus, and more insights and techniques that will help you develop a customer-centric mindset without sacrificing your company's bottom line.


20.  Web Analytics 2.0: The Art of Online Accountability and Science of Customer Centricity
by Avinash Kaushik
Book Description: Web Analytics 2.0 presents a new framework that will permanently change how you think about analytics. It provides specific recommendations for creating an actionable strategy, applying analytical techniques correctly, solving challenges such as measuring social media and multichannel campaigns, achieving optimal success by leveraging experimentation, and employing tactics for truly listening to your customers. The book will help your organization become more data driven while you become a super analysis ninja!

References: 

http://www.searchenginejournal.com/for-the-reader-top-10-best-seo-and-social-media-books/60817/
http://www.jm-seo.org/seo-tutorial/top-10-search-engine-optimization-books.html