Pop-ups are windows that appear on a website that a user has visited. They materialize automatically without any intervention. Its content can vary widely: it can be an opt-in form that is meant to generate leads, a video that is designed to promote a company's campaign, a message that displays the latest news and updates, or a third-party advertisement that the site owner wants the visitor to click on so he can earn extra cash.
In some instances, a pop-up appears when triggered. It appears after hovering the mouse on specific parts of the page, navigating the page, or even when being idle. Such advertising technique forces the user to view the pop-up, which is usually an advertisement, whether she likes viewing it or not. That's the intrusive nature of pop-ups that is inappropriate by some users since it ruined the experience.
Should you integrate a pop-up on your web design or not?
One common question in the industry of web design in the Philippines or any place for that matter is –  would it be wise to integrate it into the overall website structure?
Below are its benefits and pitfalls.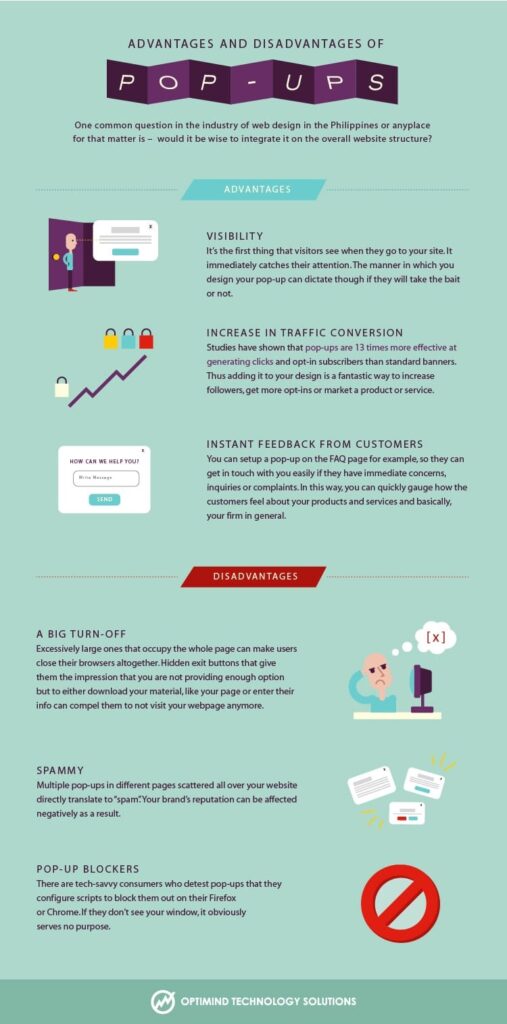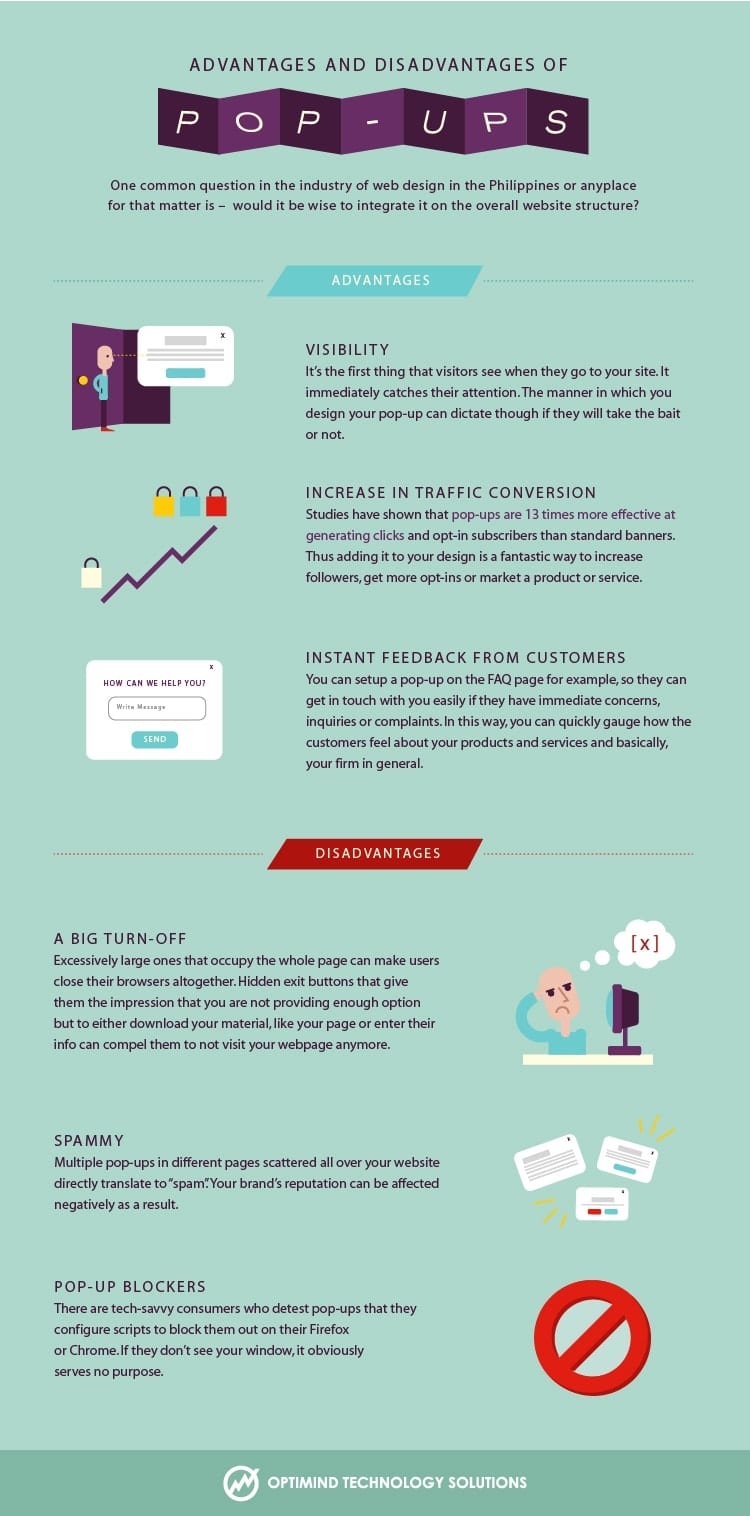 ADVANTAGES
Visibility.

One obvious advantage is its visibility. It's the first thing that visitors see when they go to your site. It immediately catches their attention. The manner in which you design your pop-up can dictate though if they will take the bait or not. Pop-ups are 50% more effective than banners in terms of grabbing the users' attention. And no, users cannot ignore the pop-up.

Customization.

Branding is not sacrificed since complete customization of pop-up ads is possible. While at it, you may also customize the user experience (UX) by sending messages of what they would want to see on your website. Provide the necessary clickable options.

Increase in traffic conversion.

Studies have shown that pop-ups are 13 times more effective at generating clicks and opt-in subscribers than standard banners. Thus adding it to your design is a fantastic way to increase followers, get more opt-ins or market a product or service. For instance, if you are an agency who is practicing SEO and you would like to post an announcement about the recent SEO training that you will be hosting this month, installing a pop-up is guaranteed to attract the interest of your followers including enthusiasts and professionals alike.

Instant feedback from customers.

You can set up a pop-up on the FAQ page for example, so they can get in touch with you easily if they have immediate concerns, inquiries or complaints. In this way, you can quickly gauge how the customers feel about your products and services and basically, your firm in general.
DISADVANTAGES
A big turn-off.

If not implemented correctly, it can drive away your current audience. Excessively large ones that occupy the whole page can make them close their browsers altogether. Hidden exit buttons that give them the impression that you are not providing enough option but to either download your material, like your page or enter their info can compel them to not visit your web page anymore.
Intrusive.

Pop-up ads, when seen, felt like being forced down to the users' throat. The users may perceive the ad as distracting too since it takes away the user's attention from the main content. If not properly implemented, this can hurt the website through high bounce rates.

Spammy.

Multiple ones in different pages scattered all over your website directly translate to "spam". Your brand's reputation can be affected negatively as a result. Not to mention the overall reputation of pop-ups throughout its existence: spreading malware and other forms of virus.

Pop-up Blockers.

There are tech-savvy consumers who detest pop-ups that they configure scripts to block them out on their Firefox or Chrome. If they don't see your window, it obviously serves no purpose.