Search engine optimization, or SEO, for brevity, and its strategies and tactics constantly change. Nevertheless, there are proven SEO techniques or what we call SEO best practices that can double both ranking and traffic in the shortest time possible.
SEO best practices to increase ranking and traffic
1) Implement content optimization
Optimizing content means maximizing the chances of the page ranking high on search engines, especially Google. Content optimization is not just about optimizing the meta title and description tags, the keywords, and the word counts—it is also about ensuring readability.
Nonetheless, the techniques mentioned are a part of the content-related best practices.
2) Optimize meta title and description tags
How Google displays your result in SERPs (search engine results pages) affect the click-through rate (CTR). As such, don't forget to include a keyword in the title and meta description tags. This is one way to ensure that Google understands what your page contains. The more compelling the title, the higher the CTR, which means higher traffic volume for your page.
CTR is also a ranking factor. Google determines which results must be displayed in a higher position based on its CTR.
3) Include targeted and LSI keywords
The rule of thumb is one target keyword per page when it comes to keywords. There is one main keyword and related keywords, or what is called LSI keywords in SEO terminology. LSI means latent semantic indexing or semantically related keywords.
For best results, after identifying the keywords to use, you should also determine the frequency of their use to maximize the ranking capabilities of the said page.
Don't forget to check the readability level of the page. You should strive for three to six levels. This is appropriate for a blog post and higher grade levels if you are publishing a white paper, for instance.
4) Use long-tail keywords
Using long-tail keywords or keywords containing two or more words cannot be emphasized enough. These keywords are more targeted, which also means users are convert-ready. Users know what they're looking for and are probably ready to purchase once they find the right product or service.
5) Use the suitable word count
Word count varies depending on the purpose of the page. For example, a product page can have between 500 and 1,000 words, though an in-depth evergreen blog post should be at least 1,500 words.
For Google, word count gauges the page's displayability if it adequately satisfies the search query, which is also your target keyword. Your pages may not rank if it does not satisfy the word count and the search intent.
6) Remove non-performing pages
When publishing content, there is a high possibility that traffic and ranking on old blog posts would eventually decline. This is because outdated posts do not usually earn or build new links.
Google gives each website of crawl budget depending on the size of the site or the total number of pages on a given website. If you have thousands of pages, chances are, Google bots would only all about 35 to 500 of them. You won't rank if Google keeps crawling non-performing pages instead of pages with the right ranking metrics such as backlinks.
7) Update old yet performing content
It isn't easy to pursue new topics while also updating the old articles, posts, or content in general. But then again, there are evergreen content pieces worth keeping, more so when they break in a high number of quality backlinks.
This is also fundamental to optimizing the crawl budget. Think of it this way: if Google spiders could crawl pages with the proper on-page and off-page elements, they may better display your pages on SERPs when triggered by the target search query.
8) Publish content that aligns with search intent
Search intent means the purpose of an online search. For example, when users search for link building services in manila, they are actually looking for an SEO provider near their location. And Google would display a list of SEO companies that offer this service and whose office is located in Manila.
In some instances, the content answers questions about a particular subject. Google placed these answers in the People also ask section of the results page and the related searches section at the bottom of the top organic results. These are actual queries or searches that real users perform.
Publishing content that covers questions increases the chance of appearing in featured snippets, attracting more backlinks, and converting visitors through highly relevant answers.
9) Optimize for voice search
Voice search is increasingly crucial to SEO, more so that more and more homes are investing in a smart speaker. For instance, 2 in 5 individuals use voice search at least once every day.
The goal is to appear in the featured snippets. About 40.7% of the answers to voice searches are taken from these snippets. Also, voice search searches are usually questions and near me or nearby queries.
10) Increase website speed
Site speed is one of the most important ranking factors today because it can make or break a website SERP-wise. So, this is integral to any SEO best practices list, more so that speed is a ranking factor. Users want a fast-loading page, especially on mobile devices, and so is Google. The rule of thumb is 3 seconds, though the lower, the better.
One of the usual reasons why bounce rates are high is because of site speed. Bounce rate increases by 32% from the three-second mark. It means if your website fails to load in 3 seconds or less, the user will abandon it and go to the next available website.
Page speed is not just about improving the website's organic performance—it also influences the users' decision-making, thus, increasing conversions in the process. It boils down to the consumer's trust and willingness to buy from a fast-loading website while abandoning a website that takes forever to load.
11) Utilize structured data
Structured data also increases your chance of appearing in the featured snippets. The markup also extends your SERP listing through essential elements such as logo; local business details like ratings, open hours, directions, and how to book an appointment or order an item; FAQ, speakable content, or text-to-speech (TTS); and sitelinks.
These schema markups help Google better understand what the page is about. Thereby helping improve the ranking of each page.
12) Focus on mobile-first
Ever since Google decided to favor mobile-first indexation, things have never been the same. This signals the evolution of how users interact with content, especially mobile content. Today, most searches and almost 50% of all purchases are conducted through mobile.
Since Google crawls and indexes the mobile version of the website ahead of its desktop version, the advocacy is to design for mobile-first. It simply means prioritizing the mobile experience over the desktop experience.
This has been tested during the coronavirus pandemic, wherein mobile usage increased exponentially. And those website owners who prioritize mobile-first experiences at the dawn of Mobilegeddon are reaping the rewards of their proactive efforts.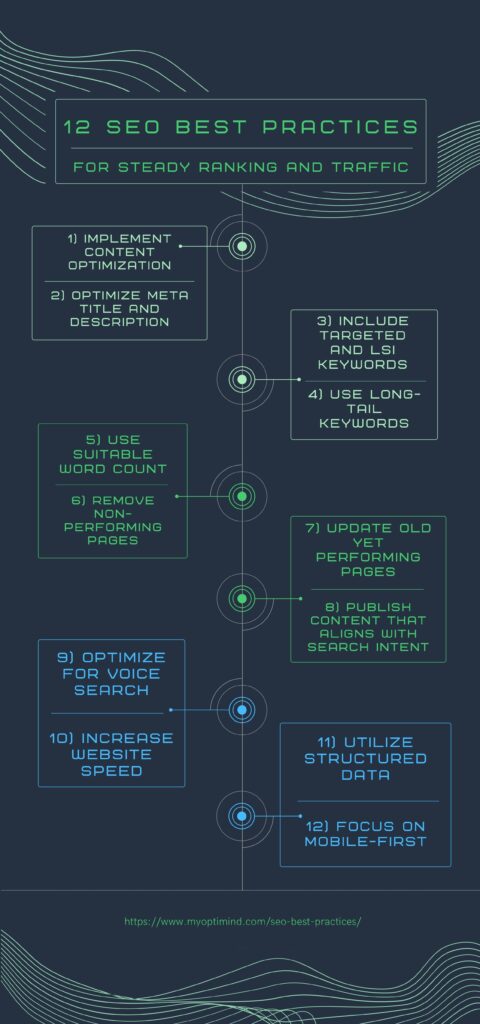 Optimind has an SEO team adept at implementing these SEO best practices. Our process starts with auditing your website to determine which SEO strategies and best practices to implement. So let's do the audit! Call us.