How do you present both mass and high-end brands without alienating any one of your target audience?
This was Optimind's challenge during the redesign process of Uratex's new consumer website. The solution is to balance both elegance and still show a touch of affordability.
In a span of 1.5 months, Optimind was able to transform Uratex's old website to its new clean and crisp look that aligns with the sleep solutions that the company is offering.
A Bold Visual Navigation
The new navigation is designed to easily lead the visitor to the product that he/she is looking for. With a featured image and thumbnails that show the types of product per category, Uratex's website visitors can now find what they're looking for in an average of 2 clicks.
Responsive Web Design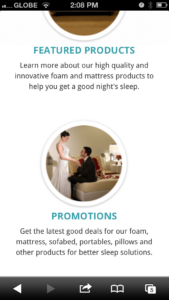 The new website is also utilizing the new responsive technology that allows the growing mobile visitors to easily read the website's content and navigate the website without the need to zoom in.
Beautiful URL Structure for Search Engines
Designed with SEO in mind, the new site is sporting a beautiful url structure for better search engine crawlability.
www.uratex.com.ph/classic-collection/sofa-beds/ as opposed to its old www.uratex.com.ph/2008/11/sofa-beds/
Visit www.uratex.com.ph/foam for more information.
Interested with our web design service? Click here to know more.