"Marketing is no longer about the stuff that you make, but about the stories, you tell." – Seth Godin
With the onset of technological advances in the 21st century, there seemed to be a drastic change in the practice of digital marketing. Before, marketers pay high focus on the kind of material produced as well as the avenue on where it is shared. At present, this practice remains efficient and advisable, but it's not everything.
Considering the varied information available online, people now have more option on what to consume and where to find them. One important determining factor that dictates who gets the market attention are the stories being shared online that appeals to the emotions of the audience. It's exactly why we see a visible shift in the strategies on how marketers shape their message to fit the people's preference.


According to a report made by Insivia, around 36% of online consumers trust the advertisement they see online, and about one-third of the entire online activity is spent by watching videos.
For businesses, this should send out a message on how efficient it is to use videos to spread messages. In fact, expert studies suggest that video production for marketing purpose will increase this 2017 and will dominate the online arena by the start of 2020.
You don't need to wait for 2020 to make the changes in your approach. By starting early, you get the advantage of experimenting different strategies to see which material gets the best response. Below are the videos marketing trends expected to help entrepreneurs grow their business even more.
Social media distribution of video content
Watching videos through official streaming sites is mainstream, which is exactly why it's crucial that company build their presence through avenues like Youtube. However, it's not the only method. Now, more people are discovering the existence of videos through social media. One person could share a Youtube video on Facebook which is then shared by another friend to his or her circle.
By sharing your video content on different social media platforms such as Twitter, Google + and Facebook, you are increasing the chances of attracting more people to view your content.
360 – degree videos
Ever since selfies have become mainstream and video publishing has become so comfortable, a lot of people now take their videos to promote something. 360 – degree videos are among the most popular ones. They can be made using one's mobile device and can showcase the entirety of a place or product, which is exactly why it comes in very handy for marketers who wish to share essential features of a product such as its appearance and design.
Rise in Youtube engagement
If you compare the number of view from videos decades ago with that of today's releases, you will see a significant difference regarding results.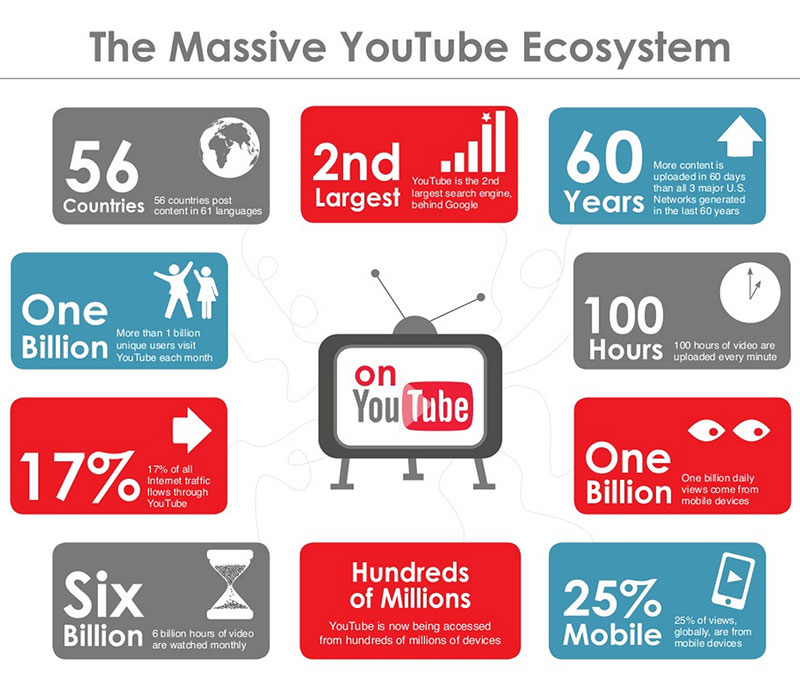 Now, more people, especially millennials are using videos to find out more about something. Watching videos is faster than reading an entire article with the same content.   With this increase, digital marketers must keep up with the trend and make sure that their outputs are engaging. Needless to say, they must be active in replying to comments and mentions too.
Rule of live streaming
Timeliness is crucial in any marketing endeavor. Being the first one to report about something increases your credibility and relatability among people who are interested in the information you share. Live streaming gets this done. For companies who wish to promote their products better, why not go live one of these days and connect with your customers real-time?
Popularity of temporary content
There's a reason why Snapchat has soared to popularity fast. Their content is not permanent and disappears in a twenty-four-hour period which then creates a sense of urgency from their users. This psychological trick works wonders and is efficient especially when you are trying to promote an offer for a limited time.
Storytelling through videos
We've pointed this out above. Sharing stories has become more popular because people like to hear it better. Stories are easier to relate, and it's more strategic from a marketing standpoint to provide content that consumers can easily sympathize.
Plain text articles and images still do this well, but research and studies have proven that it's best to upgrade your method by going for videos.
Email marketing through videos

Email marketing matters as they continue to become an efficient way for establishing professional connections with potential clients and reconnecting with long-time contacts that you haven't heard from for some time.
But to ride the trend, it is seen to be more efficient to upgrade your email marketing campaign by using videos rather than plain text.
Rise of reaction videos or reviews
It might have all started as a random reaction video for fun, but judging from the increased number of people who make reaction videos on just about anything, we see how it's ultimately changing the rule of the game in digital marketing.
Many people rely on product reviews before purchasing, and if they see a lot of good public reviews about something, there is a higher chance that they would go for it.
For marketers, it means using this new trend to make their products more enticing. Tapping popular video bloggers, for instance, may be a good way to spread awareness about you product.
Strategic incorporation of video ads to other videos
You must have been aware of it by now. When you usually open videos with high viewership, you are presented with a quick 30-second ad about a product. These companies pay for the ads, and true enough, they get more attention even from people who may not be among their direct market. Apart from the current advertising strategies you may be employing at present, it may now be a good move to shift your attention to video ads.
---
There is no denying the fact that video has changed the arena for advertising and content marketing as a whole. The popularity of video content at present is still expected to rise for the coming years given the enhancements in digitalization.
For startup companies, hiring third-party entities like the SEO Philippines can be a good move to improve one's site ranking using the trends we have mentioned above. Take a closer look at your current strategies and see what needs to be enhanced. Recreate past content and turn them into videos!