If there's one treasure trove that SEOs know of that would be Google Analytics. It's one of the free tools that Google offers and the easiest one to use at that. At its most basic, Google Analytics tracks and analyzes the visitors to a website. Hence, determining whether that site is in its optimal condition is possible. If it lags behind its competitors, the tool can also show ways on how to tweak it for better site performance based on your campaign goals.
Everything you will need to improve your website is there. You just have to know which ones to drill down.
Making sense of Google Analytics
1) Tracking the right metrics

One of the best features of Google Analytics is the customizable metrics. These parameters can be configured so you can dig deeper into the data presented by the tool to inform your reporting nonetheless. Among these metrics, the most important are the following.
Conversion
It refers to the total number of visits within a particular period that turns into potential or actual customers. If this figure is negative or below the targeted rate, then there's a problem with your site especially the contact us page and calls to action. You might want to look into the targeted landing pages as well since there might be a mismatched between the targeted keywords and these pages if your site's conversion rates are too low. Look at your campaign goals too. Make sure that yours are realistic and attainable within the given timeframe.
Session duration
This refers to the length of time the visitors spent on your website. If this is low or negative, it means that the bounce rate (or the percentage of visitors leaving the site after viewing a single page) is high. Put simply, there is a lack of dwell time, and it tells much about user experience (UX) or the lack thereof within your website. Another factor to look is the navigability of your site and the content that might not be engaging at all. You can start analyzing the pages that have the highest bounce rates to determine why is this so.
Organic search
From the name itself, it refers to the total number of visitors who landed on your website from a link on a search engine results page (SERP). If the number is too low, it only means that your landing pages are not ranking on SERPs. There are many factors at play here other than the UX design of your site. You should look at other ranking factors like speed and security as well as the metadata implementation at the landing page level. Look into the robots.txt also as Google may not be able to crawl and index some pages as indicated in the file.
2) Setting up social campaigns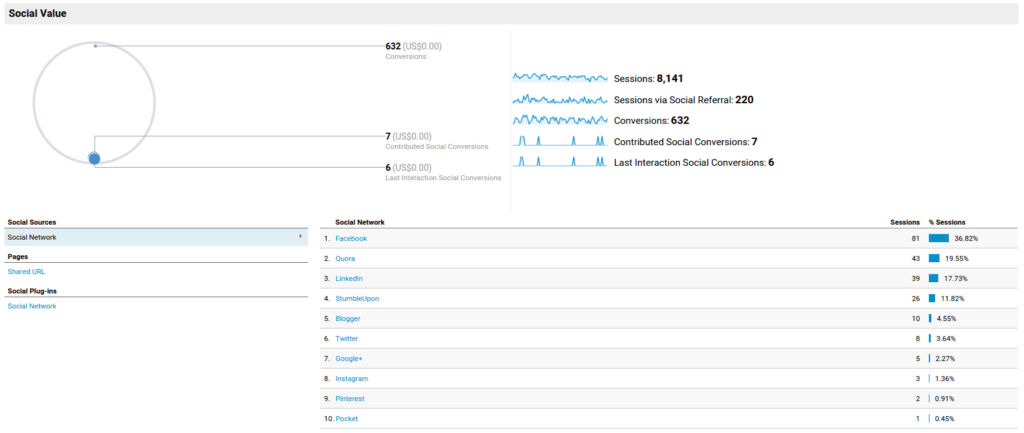 When there's SEO, there is also social. These campaigns are often considered interrelated. Track a social media marketing campaign by plugging it to Google Analytics, under the Social Settings section. Through this, you may also monitor conversions and track landing pages among others.
Under the social tab, you may instantly see your website's social value in terms of your conversions. The numbers alone can easily tell you if you are hitting the right targets or not. Other than that, you may check the pages and social plugins that provide the most conversions concerning share and other engagement points. For instance, you can determine the elements that make these pages share-worthy. Change your content plan if necessary.
If the numbers are low, then it also means engagement on your chosen social media platforms is rather low. There might be a need to re-strategize to target the right segment using the right social channel. Otherwise, it will only be a waste of marketing budget whether you are targeting the right segment on the wrong platform or vice versa or targeting the right segment using the right platform but using the wrong type of content. These insights can be drawn from using Google Analytics alone.
3) Tracking mobile performance

Nowadays, the discussion revolves around accelerated mobile pages or progressive web apps—both concepts thrive on making content available and consumable on mobile devices. It is no longer about making your website mobile-friendly because you really have to. The users are becoming more mobile-first and are only using desktop computers when they have to.
Thankfully, Google Analytics can show your website's mobile data to determine where you can improve on. Go to your mobile audience and check the acquisition, behavior and conversion.
Acquisition
Look at the total number of users, new users and sessions. You should see an ascending or steady pattern. If the numbers are declining, test your website in terms of its mobile-friendliness. You might be missing some points here particularly how fast (or slow) your page loads on mobile devices.
Behavior
Although this may depend on the goal(s) you set, strive for at least two minutes of average session duration with higher average views. Without these, the website may be experiencing high bounce rates. Investigate this and tweak where necessary. Make sure that your website follows Google's mobile guidelines.
Conversions
Examples of conversions are contact and contact completion. If the percentages are high despite the high bounce rates, that means the website has a high number of missed opportunities. Your goal now here is to test landing pages and exit pages to lower the bounce rates.
4) Generating the custom reports

With the above two, the goal is to create reports based on your configured metrics. Nevertheless, the reports should show the following as basic metrics.
Acquisition
This report shows where the actual traffic comes from. This report alone can tell you if your site has a diverse backlink profile. If it comes from poor-quality sites, then it is high time to rethink your link building strategies before Google thinks of your site as a spam. Yes, the search engine now looks into the quality of the sites that are linking back to your website, so you need to proceed with caution.
Conversion
Of course, the report must show figures pertaining to conversion rate. Again, this may depend on the goal like a thousand newsletter subscribers or contact us page completions from period A to period B. The thing is the report can show whether key performance indicators (KPIs) are met or not and move on to the next probable action.
Keywords and landing pages
The report must outline the search terms the users use in landing on specific pages on the website. It must also show the exit pages. The findability of your website lies on proper usage and dissemination of keywords within the site and corresponding landing pages. If you know the most commonly used keywords and frequently landed pages, you may easily determine the elements that attract visitors to a particular page, for instance.
With all these, Google Analytics can provide with real figures to determine whether your site is performing at its best or not. If not, then the tool also gives you the metrics you should be looking at initially. This doesn't mean you should look at the entire analytics report because as mentioned above, the tool is a treasure just waiting to be discovered.