Facebook officially launched its advertising platform in 2007. However, Facebook introduced a larger scale ads program on its platform in 2010. With the exponential growth of active membership comes the increase in Facebook advertising services. And this is true in terms of scale and leverage.
One of the most valuable tools is the Facebook Ads Manager. The tool allows you to manage your Facebook advertisements right from one dashboard. From here, you may create your ads based on marketing objectives, your target audience, where you want to show your ads, and the ad formats.
Apart from managing multiple ads through the Ads Manager, the essential part of this tool is it offers insights into how these ads perform. The reports show all the metrics that should matter to your Facebook campaign and improve where necessary.
Understanding how Facebook advertising may help your business is critical in the ever-competitive marketplace. However, Facebook marketing can be costly, so you want proficiency and expertise when handling Facebook ads. This is where the role of Facebook ads management services comes into play.
What do Facebook ads management services entail?
Facebook ads management involves two broad processes. The first is creating the campaign, and the second is monitoring it.
Facebook ads creation
Creating ads can be confusing for first-timers the earth two methods to create a campaign. First, guided creation. The platform will help you make the ads by showing a step-by-step prompt on what to do. This is advisable for marketers who have zero experience with Facebook Ads Manager, creating the ads directly through the Ads center.
The problem with guided creation is that it is elementary. It is too basic that targeting may not be as on point as you want. Nevertheless, it is perfect for brands or companies with limited product or service categories. They can create ads for each product category, for instance.
Second, advanced creation. If you want to create an ad campaign with varying ad sets and multiple ads for each ad set, you should build the campaign from the ground up. Facebook Ads Manager has features that allow you to create advertisements at the campaign, ad set, or ad levels. You may also actually create ads at the shop or post levels.
But this will require technical capabilities, especially if it is your time doing an ad campaign through the Ads Manager. So here's a brief walkthrough of the process.
How to create a campaign through Facebook Ads Manager
These are the steps in creating an ad campaign on Facebook.
Step 1: Select the campaign objective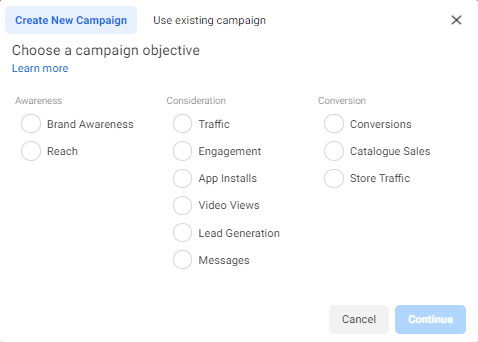 The campaign objective is what you want to achieve with your social advertising, and it should align with the overall campaign goals. Facebook offers a handful of objectives that match these goals.
There are three broad campaign objectives categories: awareness, consideration, and conversion. Under awareness, you have brand awareness and reach.
Under consideration, your choices are traffic, engagement, app install, video views, lead generation, and messages.
Finally, there are conversions, catalog sales, and store traffic under conversion.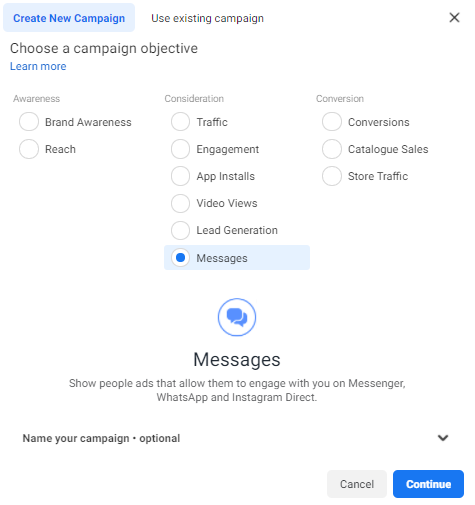 Choosing the right objective is paramount in crafting an effective ad campaign.
Step 2: Name the campaign
Some marketers tend to skip this part. However, naming conventions have organizational purposes. For example, if you are running multiple campaigns simultaneously, it would be confusing to identify each of them based on their campaign IDs.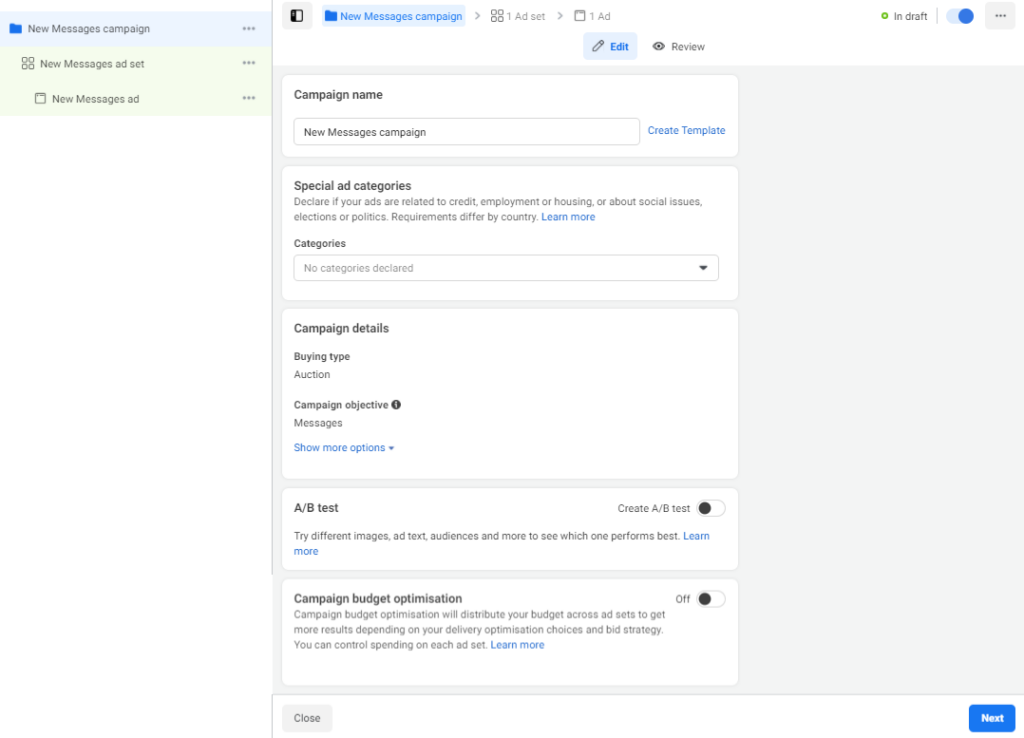 What's more, if you've given campaigns a name, it will be easier for hyper-efficient monitoring and reporting later on in the process.
There are no hard and fast rules on naming your campaign. However, below are some ideas.
Client name or website if working for multiple clients and multiple websites
Target audience and location
Custom audience
Type of creative
Facebook page name running the campaign from
Step 3: Select the target audience
The target audience is the users that would be the most interested in your brand and its products and services. Good thing, Facebook allows you to create an intensely targeted audience by setting custom parameters.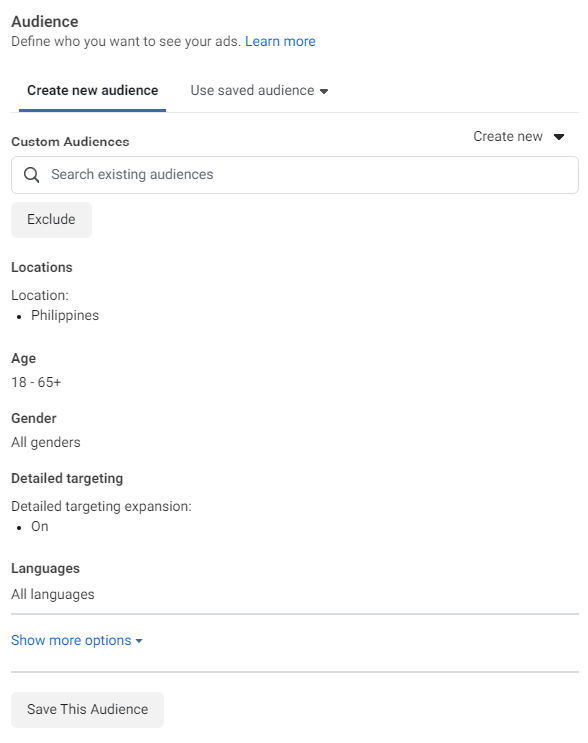 Facebook provides many ways to target audiences. The basic options are creating a new audience and using a saved audience. Three things to help you with this are:
Interests
Behaviors
Demographics
Facebook also displays the estimated daily reach as you build your audience. It will tell you whether the audience you've selected is too broad or too narrow and give an overview of the potential reach of your targeting.
Step 4: Upload the ad creative
Facebook offers several types of ads, not just photos or videos. For instance, the most popular is the carousel ads. So when creating a campaign, make sure the visuals or the marketing collateral are ready.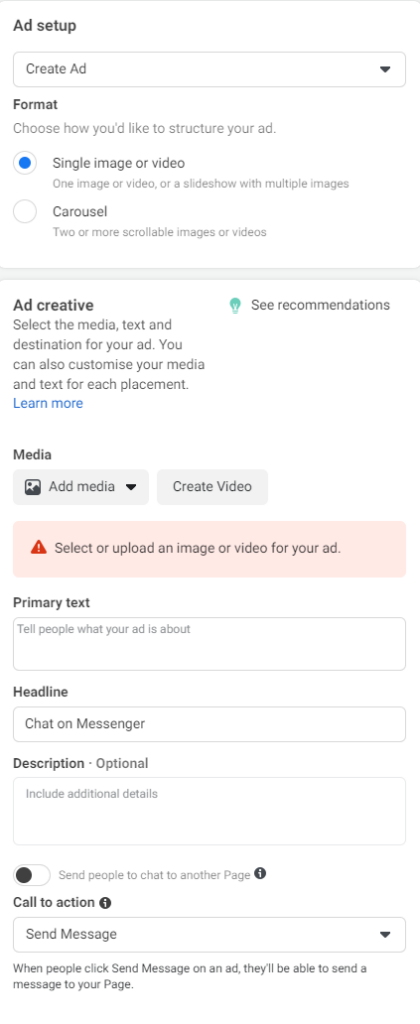 Step 5: Write the ad copy 
The ad copy is equally important as the visuals so make sure that the copy has all the relevant information that users can use when learning about your brand and its products and services. This is where you may insert keywords so that the ad or post will be displayed when triggered by a search.
Step 6: Set bid amount
Next, you need to set a bid amount. This will depend on your budget as well as the ad placements. The more users you want to reach using several ad placements. The higher the budget requirement.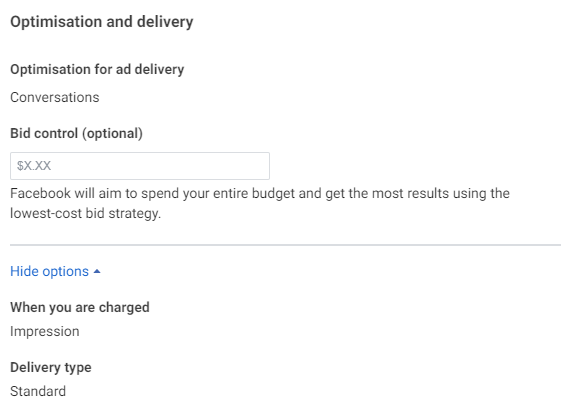 When setting up a campaign budget and bidding, it's essential to look into three things:
The budget type. Your choices are either daily or lifetime.
The amount to spend for a day or the entire campaign.
The campaign schedule or its start and end date.
If you're running several campaigns and ads simultaneously, campaign budget optimization is essential. Turning on this feature means allocating the campaign budget to the ad sets as effectively as possible. With this also, you need not set the budget for each ad set manually.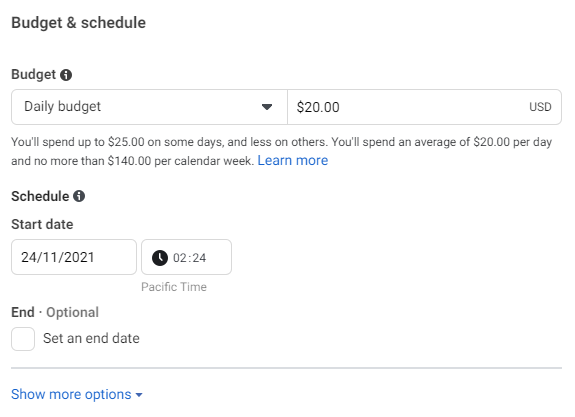 Step 7: Set up placements
Facebook ad placements are diverse. You have many choices, although automatic placements or the default placements and manual placements are shown primarily.
If you choose automatic placements, the platform will put your ads to deliver the best results. However, if you are picking your placements, these are your Facebook marketing options:
Feeds –  Facebook and Instagram news feed, Facebook marketplace, Facebook video feeds, Instagram explore and Messenger inbox
Stories – Facebook, Instagram, and Messenger stories
Videos – Facebook in-stream videos and IGTV videos
Apps –  Audience Network native, banner, and interstitial and rewarded videos
Others – Facebook search results and Instant Articles Messenger sponsored messages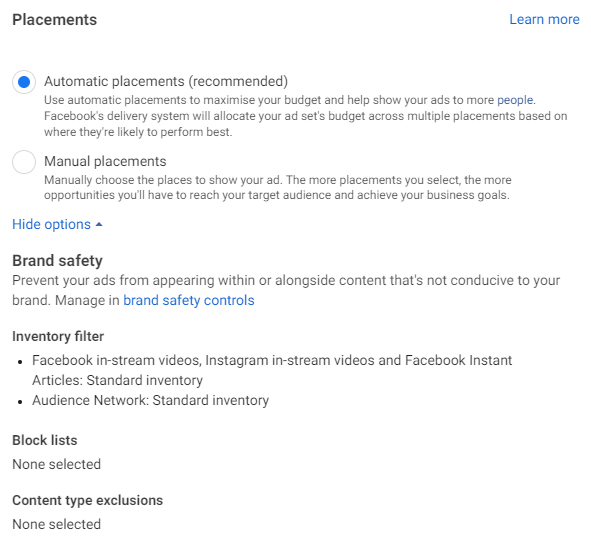 Step 8: Finalize the ad details
The last step is to review the ad, ensuring that the copy, visuals placement, and bid details are accurate.
Hit the publish button once you're done with all the information and check them through.
Facebook ads monitoring
Now, for the second broad part: monitoring. Once the campaign is up and running, ads performance monitoring starts. Continuous monitoring is required for at least four aspects of the campaign:
Placement
Creative
Placement
Budget
Check the real-time reports to determine how your ads are performing. Also, you can spot trends in improving the ads and, of course, the campaign where necessary for greater success.
Facebook ads management tips
Here are some more actionable Facebook ads management tips.
Make the ads as targeted as possible
When creating a campaign, of course, you want to earn conversions. But you won't be able to do just that with an improper setup campaign.
Focus on creating custom audiences for targeting and retargeting purposes. Create a custom audience based on customer demographics, engagement activity, website traffic, offline activity, and several others.
Yes, ad fatigue is a thing, so don't bombard their target audience with ads several times throughout the day. Pace it; otherwise, the audience will become less responsive. This is counterproductive and would mean fewer conversions for the campaign.
You don't want to leave negative impressions on your target audience. However, if your target consumers are not engaging with your ads, you might as well check your dashboard for insights, analyze why, and fix it accordingly.
Hire a professional Facebook ads management provider
Facebook advertising requires time, effort, and dedication. A steep learning curve is also involved until you develop an effective campaign. You can't do this if you're busy running your business and doing Facebook ads management on the side.
Hire a Facebook ad management services provider instead. It is an expert in setting up and managing a campaign for you. In addition, it has the experience and the tools necessary to create Facebook and other social campaigns that work effectively.
Optimind offers social media marketing services such as community management and social ads. As part of our packages, we also provide Facebook ads management. Our team is proficient at optimizing social ads and social ads spending. Talk to us!