Entrepreneurs, business owners, or practically anyone who wishes their industries to take off should know that search engine optimization (SEO for brevity) is pivotal to any marketing strategy.
Unfortunately, SEO can be a complex process considering Google's ever-changing algorithms. As a result, your efforts to improve your website's SEO can be pretty ineffective. It can be a complicated strategy to utilize if you are inept at comparing it with SEM.
On the surface, the techniques may seem quite similar, but these are two very different approaches. Using the terms SEO and SEM interchangeably without knowing the differences between the two can result in an unclear and ineffective strategy that can be detrimental to your efforts to improve your visibility in search. To ensure that your marketing efforts are not for naught, it is recommended that you understand the definition, distinction, and value of each.
As many marketers similarly use Google Ads to drive traffic and leads to their business, it is also imperative to know how it compares to SEO and SEM. In this article, we will look at the merits of each strategy for your marketing endeavors.

a.) SEO
SEO involves optimizing and improving your website and its content to rank higher on the search engine results page (SERP for brevity). To ensure that your page appears in relevant search results, optimization strategies such as internal linking and keyword integration are paramount. That said, well-optimized pages generate traffic for your website, thereby increasing your ranking and sales.

b.) SEM
On the other hand, search engine marketing or SEM is a strategy in search marketing that uses PAID tactics to increase visibility in SERPs. Paid SEM strategies include setting up and optimizing ads. Beyond that, however, it also involves drafting a budget to pay for ad placement.

c.) Google Ads
Previously known as Google Adwords, Google Ads is pay-per-click advertising (PPC advertising for brevity) to reach interested leads. They typically appear in several forms, including search ads which appear at the top of SERPs. Search ads may look similar to organic search, but they have the tag "ad" to help users differentiate them from organic listings.
On the other hand, Google Shopping Ads appear in a carousel format at the top of the SERPs. They contain product images and prices coming from various brands. This is an excellent way for users to quickly compare products when shopping.
Lastly, local services ads are for service companies such as electricians, plumbers, and the like who wish to attract local leads. While they are similar to Shopping ads that come in carousel format, they differ in the sense that they list service information for business instead.
SEO vs. SEM
On the surface, SEO and SEM may seem similar. However, both are unique elements of search marketing. To compare, you would find that they both have overlapping similarities and differences that separate them.
Differences between SEO and SEM
a.) SEM search placements include the designation "Ad," while SEO does not.
In a nutshell, paid ads that gain placement through SEM tactics are often designated as an ad by an icon appearing next to the placement. On the other hand, search results that appear as a product of organic SEO are not marked in any such manner.
b.) SEM results have ad extensions, while SEO results have featured snippets
Another notable difference between SEM and SEO is the appearance of the search results. SEM search results may carry ad extensions (additional links, call-outs, and phone numbers). SEO results, on the other hand, appear with featured snippets in search results.
c.) You are required to pay when users click on SEM results. No such payment is necessary for SEO results that are clicked
Because SEM results are paid placements, you are charged every time a user clicks on a result. That said, the budget needs to be allocated if you wish to use this form as lead generation. On the other hand, Seo does not require payment each time a user clicks on your result.
d.) SEM results are shown to a selected targeted audience. SEO results do not.
Successful SEO and SEM strategies are driven by a plan to connect with a select audience. When it comes to SEM, however, you can specify who that target audience would be. Through SEM strategies, you can select the type of audience you wish to see your search results by assigning filters based on age, income, habits, location, and the like. SEO, however, does not have the same option.
e.) SEO adds value over time. SEM does not.
SEM remains active so long as you pay for your results to show. Turning off your ads means your SEM strategy is over. On the other side of the spectrum, SEO is a strategy that grows over time and leaves lasting results.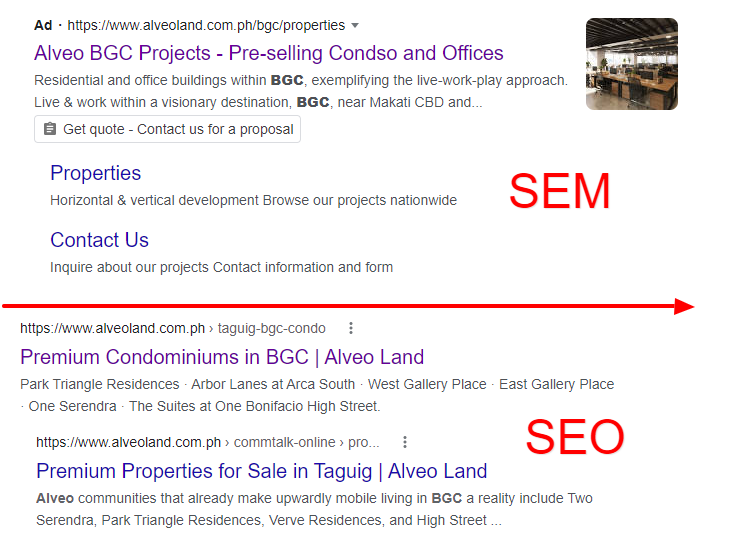 SEO vs. Google Ads
SEO and Google Ads primarily focus on increasing relevant traffic to your website. That said, it is an avenue for you to earn more leads that successfully convert. While they have many notable similarities, they have fundamental differences.
Differences between SEO and Google Ads
a.) SEO generates traffic continuously, while Google Ads only generate traffic for the duration of your ad campaign.
b.) Google Ads can place ads in search results and other Google-owned and partnered websites, while SEO's placement is limited only to search results.
c.) As said above, SEO does not charge you anything when users successfully click through your listing. On the other hand, Google Ads will.
d.) SEO requires patience as results can take a bit more time.
Google Ads, on the other hand, can give you faster results. In the same way, tracking SEO's analytics can take time while Google Ads promptly provides you with analytics and ROI.
In comparing SEO and Google Ads, you need to take a look at your business goals. If your company is focused on generating leads and sales, Google Ads works best. Similarly, Google Ads works best for businesses that wish to see immediate results and monitor their digital marketing efforts the moment they launch a campaign.
On the other hand, if you wish to generate a steady flow of traffic to your website over time or simply increase brand awareness, you can proceed with SEO. This strategy does not only increase brand awareness but it also helps people find your brand and learn more about it. Keep in mind that optimizing your website is a continuous labor of love.
With time and a bit of effort, you can improve and optimize your website for search engines. As a result, you can drive more traffic to your business.
Optimind has in-house SEO specialists who are proficient in both organic and paid searches. We rank websites and build Google Ads campaigns from the ground up. Ask us how.