Just recently, Google announced that it will index more mobile app contents. This means Google will modify how app results are displayed during a search thereby benefiting those who have applications installed on their mobile devices. These app users will see more relevant app contents when they hit 'search.' This means huge for the already flourishing mobile app development industry.
Google's reasons for including apps in SERPs
Even the best website cannot give all the right and useful answers. Sometimes, the apps can. We all know that, for Google, if it can make the search engine truly a haven for users, then why not? The goal is bringing the web and the apps together for the greater benefit of the users regardless if the information that user is looking for is buried deep into the app. Through this also, more and deeper app engagement can be achieved.
If you've searched Google on your Android phone last December, perhaps you've noticed various app results from Google Play grouped together in the app section. Google started with a limited number of apps during this time. It added more apps in the selection in April and May. As of today, Google is showing 115 apps in SERPs when they are relevant to the search. Google also commits to encouraging more app developers to get their apps indexed, so they'd appear in SERPs, too.
How Google displays apps
Aside from seeing apps on SERPs, Google started clustering apps in the US last December 2013 wherein it shows apps in the same categories. Currently, Google is working to cluster apps globally. Interestingly, Google translated its developer guidelines in different languages such as Chinese, French, German, Portuguese, Russian, Spanish, Brazilian, Italian and Japanese. An example of clustered apps for the keyword 'photo editors in Japanese' is as follows: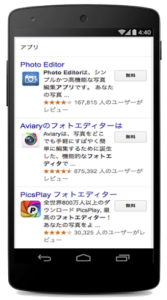 Google also includes usable links that can take the user directly to the app's contents. Accessing apps through Google is thus easier now more than ever. If you have the app installed on your Android device, you can directly 'Open in app.' If you are looking for an app, you simply have to type in the search term, and Google will display the relevant apps with either 'Play' or 'Download' buttons. If you searched for an app based on its name, Google also displays the buttons. When you touch the 'Download' button, which is usually displayed for paid apps, you will be directed to Google Store where you can pay for the app.
Further, the 'Open in app' is displayed for apps that are app-indexed for Google. Deep linking helps the users in finding the relevant content more easily, allowing the users to re-engage with the app after having it installed on their devices. Deep linking is a process for every app developer so that contents of the app will be shown when relevant keyword is searched for. Developers can connect the app to the site through deep linking as well to signal Google that it is the official app of the website.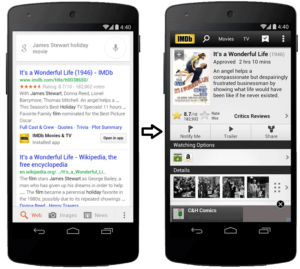 When contents in a mobile app are not properly coded, these are hidden from web searches and across devices. Deep linking lets users click the button to be directed on either the website that owns the app or the app itself. Indexing, or the process of making information available and accessible for the users, is Google's core strategy, right?
In adding deep links to the app, intent filters must be provided by the app developers themselves. Here are the steps in indexing your app contents. Be reminded that it can take up to 48 hours before the 'Open in app' button appears next to the app results.
When it doesn't show within this period, there must be something wrong. Google added a new feature in its Google Webmaster Tools wherein the app owner can debug the issues that may arise when indexing the app. Google will send an error notification so the owner can keep the app up-to-date. Nonetheless, the search mogul also includes a QR code so the app can be easily opened on any Android gadget.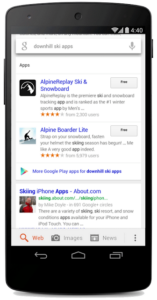 The challenges ahead
Initially, the changes can be very useful for everyone especially Android users. App contents are made more discoverable through searching. Users are enabled to find relevant contents quickly on their apps. This is great help to the app developer communities worldwide as well. Developers are able to market their apps directly to those who need them. Finally, the process is helpful to Google in displaying more expansive search and more useful mobile usage experience.
Save for Google's 'greed' because it only shows apps on Google Play store, in-app indexes mean delivering results better suited to the needs of the users. Apps threatened the core of Google; meaning: why do you have to search Google when you can get what you need on Yelp? Through these changes, Google can reassert itself as a content discovery tool for mobile users as it is for desktop users.
While Android app developers can also participate in app indexation, there remains the challenge of making the apps more search engine-friendly. Evidently, the announcements made by Google created more confusions, at least for the developers. Like websites, how can app developers make the apps appear organically on search results? Can the apps be made search-friendly early on the design stage? Is changing the app development programming language necessary?
Should we say that for those mobile app developers who already have an app on Google Play store, they are a step ahead than those who are yet to develop or are currently developing their apps? We might not know how app developers worldwide had reacted to this, but reports claim that the changes are well-received worldwide, and more and more developers are deep linking their apps so they will appear on SERPs.
It's a good start for Google, capitalizing on higher Android app engagement than iOS app, but unless it will solidify the systems, languages and processes involved especially on how these developers can integrate search-friendly elements on the app while it is being developed, adoption rate may not necessarily shoot up. We will keep waiting for the progress.